ARTISTS | Waldemar Kolbusz
With a practice that alternates between abstract and more figurative painting, Waldemar Kolbusz' works come naturally charged with a high energy. His large and richly painted canvases pulsate and move, creating an ongoing dialogue with the works. Kolbusz works in a fluid way, often resolving numerous paintings simultaneously, and whilst a significant shift in thinking is required to move between the different genres, his cerebral approach  informs and nourishes the work; allowing freedom in the figurative works and giving shape to the abstract.
Kolbusz' paintings have been commissioned for major projects Australia-wide and collected nationally and internationally. His works are included in corporate collections around the country.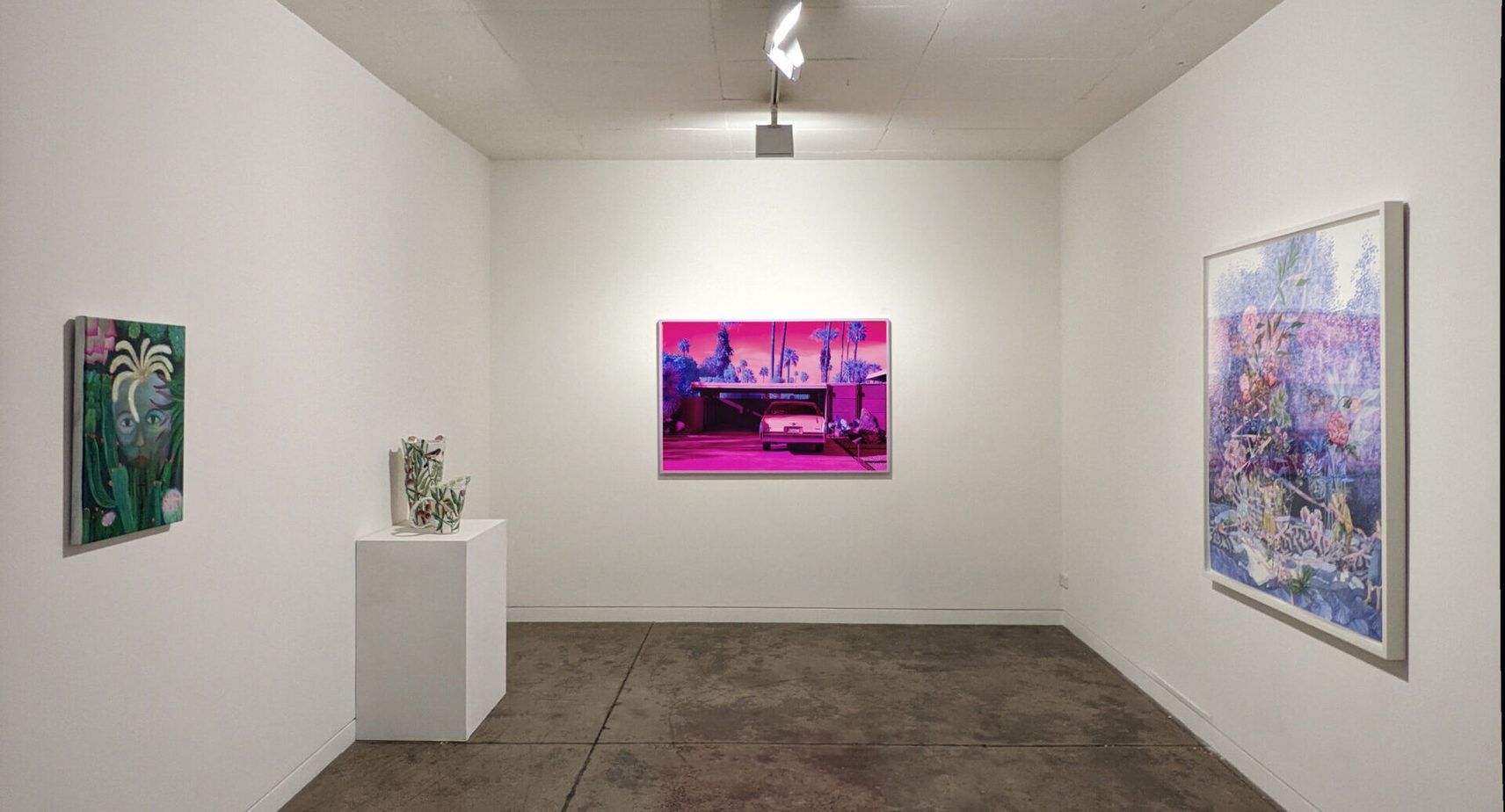 November 11, 2021
Gallerysmith Presents Kate Ballis, Dadang Christanto, Fiona Hiscock, Susanne Kerr, Waldemar Kolbusz and Catherine Nelson at Sydney Contemporary Explore 2021.
WALDEMAR KOLBUSZ
born 1969, lives Perth, WA
EDUCATION
2019    Bachelor of Visual Culture + Digital Design, Curtin University, WA
1987    Bachelor of Arts (visual arts major), University of WA
SOLO EXHIBITIONS
2020
For the Chance of it, Gallerysmith, Melbourne
For the Chance of it, Kolbusz Space, Perth
2019
Closer to Home, Flinders Lane Gallery, Melbourne
2018
On the other hand, Aptos Cruz Galleries, Adelaide
2017
Bonanza, Flinders Lane Gallery, Melbourne
2016
New Works, Aptos Cruz Galleries, Adelaide
Flinders Lane Gallery, Melbourne
Richard Martin Art, Sydney
2015
Aerial, Cat Street Gallery, Hong Kong
Rudiment, Flinders Lane Gallery, Melbourne
Richard Martin Art, Sydney
2014
Aptos Cruz Galleries, Adelaide
Cat Street Gallery, Hong Kong
New Works, Flinders Lane Gallery, Melbourne
Richard Martin Art, Sydney
Gunyulgup Galleries, Margaret River
2013
Cat Street Gallery, Hong Kong
Richard Martin Art, Sydney
Gunyulgup Galleries, Margaret River
2012
Gunyulgup Galleries, Margaret River
2011
Aptos Cruz Galleries, Adelaide
Richard Martin Art, Sydney
Gunyulgup Galleries, Margaret River
Anthea Polson Art, Gold Coast
2010
Richard Martin Art, Sydney
Gunyulgup Galleries, Margaret River
Axia Modern Art, Melbourne
2009
Gunyulgup Galleries, Margaret River
Libby Edwards Galleries, Brisbane
Axia Modern Art, Melbourne
2008
Richard Martin Art, Sydney
Axia Modern Art, Melbourne
Gunyulgup Galleries, Margaret River
2007
Gunyulgup Galleries, Margaret River
Maunsell Wickes At Barry Stern, Sydney
2006
Gunyulgup Galleries, Margaret River
Mahoneys Galleries, Melbourne
Barry Stern Galleries, Sydney
2005
Barry Stern Galleries, Sydney
2004
Gunyulgup Galleries, Margaret River
2003
Libby Edwards Galleries, Sydney
Libby Edwards Galleries, Melbourne
Gunyulgup Galleries, Margaret River
2002
Libby Edwards Galleries, Sydney
Libby Edwards Galleries, Melbourne
2001
Gunyulgup Galleries, Margaret River
Indigo Arts, Singapore
2000
Warren De Maria Gallery, Sydney
1999
Warren De Maria Gallery, Sydney
1997
Gadfly Gallery, Perth
1996
Gadfly Gallery, Perth
SELECTED BIBLIOGRAPHY
The Sunday Times Magazine, Interview with Elizabeth Clark, April 5, 2020, pg 5
STM, HOTLIST 2019, Jan 20, 2019, p6
Ex. Cat. essay, Bonanza by Phe Luxford 2017
Adelaide Review, FORM, July 2018
Ex. Cat. essay, Rudiment by Kate Britton; Home Journal, Hong Kong, May 2015, p68
Belle Magazine, "Stirred, not Shaken", Jan 2015, p135
The Tailored Interior, by Greg Natale, 2015, p206
The AGE, by Robert Nelson ARTS review, Wed Mar 11, 2015
Adelaide Review, FORM Magazine cover + pp1-4, April 2013
Harper's Bazaar Australia, cover, November 2012
Gold Coast Bulletin, ArtWorld, "Out of Control" by Marina St Martin, Sept 24, 2011, p23
Look – Art Gallery Society of NSW 0610; Art Almanac, June 2010, p161
Sydney Morning Herald, Spectrum, June 12, 2010, p18
Australian Art Collector, Issue 51, Jan-Mar 2010, p341
The Age A2, Sept 26, 2010, p22 review by Dan Rule
Artist Profile Magazine, Must See, Spring 08, issue 5, p96
Art Almanac, Profiles, November 2008, p215
ArtsBeat Magazine Singapore, "Encounters with Abstraction", Oct 18, 2008, p17
I-S Magazine Singapore, ART+, Oct 18, 2008
Australian Art Collector, Feb-Mar 2008
The Melbourne Weekly, Mar 5, 2008, UPFRONT p3
Belle, Apr/May 2006, pp 120-127
Box Magazine, Vol 009, Dec 2005, pp 29-34
I-S Magazine, SINGAPORE, #240, "Understanding Abstract", Melissa De Silva, Jan 28, 2005, p18
Gallery and Studio, NEW YORK, "Waldemar Kolbusz Extends A Great Painterly Tradition", Byron Coleman, Feb-Mar 2004, p9
Monument, #59, Feb-Mar 2004, pp67, 69
House and Garden, Dec 2003, pp 96-101
The Age, Domain, April 9, 2003, p3
Vogue Living, Oct-Nov, 2002, p132
The West Australian Magazine, Aug 18, 2001, p6
ISH – Singapore, 2001 issue 2.5, p118-119
The Business Times, Singapore, Apr 7, 2001, The Arts EL2
The Straits Times, Singapore, Apr 2, 2001, pL2
Square Rooms – Singapore, Mar-Apr 2001, p18
Vogue, Leigh-Ann Pow, July 2000, pp76-78
The Sunday Times, Candice Silverman, June 4, 2000, ARTS p10
Marie Claire, June 2000, p89
She, Australia, June 2000, p115
The Sun Herald, Timeout, April 9, 2000
Fresh, April/May, 2000
The Weekend Australian, April 8-9, 2000
Sydney Star Observer, Issue 453, April 1999; Vogue Living Australia, March 1999; Marie Claire Lifestyle, Feb / Mar 1999
The West Australian, Arts Today November 11, 1998; Jove Winter, Westside Observer, Out Loud, October 1998
Lyn DiCiero, Editor: The Artist's Chronicle, 1996; Regina Noakes, Western Review, December 1996
COLLECTIONS
Wangarratta Regional Art Gallery
Insurance Commission of WA
Mirvac Fini Group Australia
IBM, Perth
CROWN, Perth
KPMG
Duxton Hotel, Melbourne
Four Seasons Hotel, Macau
Clayton Utz
PEARD Group
Broome Regional Hospital (Boardroom)
CROWN Metropole, Melbourne
City of Stirling Collection
Balthazar Restaurant, Perth
Paspale Pearls, Director's Collection
303 Advertising
ES Bank (Singapore) Ltd
Singapore Technologies, Singapore
Scenic Tours, Europe
Harvey Norman Commercial Division, Sydney
Capital and Residential Ltd, Singapore
June 1, 2020
With a practice that alternates between abstract and more figurative painting, Waldemar Kolbusz' works come naturally charged with a high energy. His large…