Rachel Coad's figurative painting practice spans 20 years, but since she dedicated herself to the studio full-time more than a decade ago, Coad's work has steadily matured, so much so that she was awarded the Black Swan Prize for portraiture in 2016. Figuration offers a vehicle for Coad to delve into existentialism, and the engagement of viewer to subject is key to the success of her work. Colour, a tool used by most artists to communicate emotion, is reduced to tonal shifts in her paintings to eliminate distraction and retain the focus squarely on her subject.
Rachel Coad has shown in both Australia and the UK. In addition to winning the $50,000 Black Swan Prize in 2016, she has been shortlisted for numerous awards  including the Metro 5 Award on two occasions (2006, 2007) and the Albany Art Prize. At the end of 2013, Rachel was shortlisted for the BankWest Painting Prize and was voted as the winner of the People's Choice.
THE human movement at play within Rachel Coad's vastly scaled, astutely painted oils might be mistaken for that of contemporary dance or performance. The beautiful young woman who assumes the role of the painter's model is captured in various… continue reading The Age review here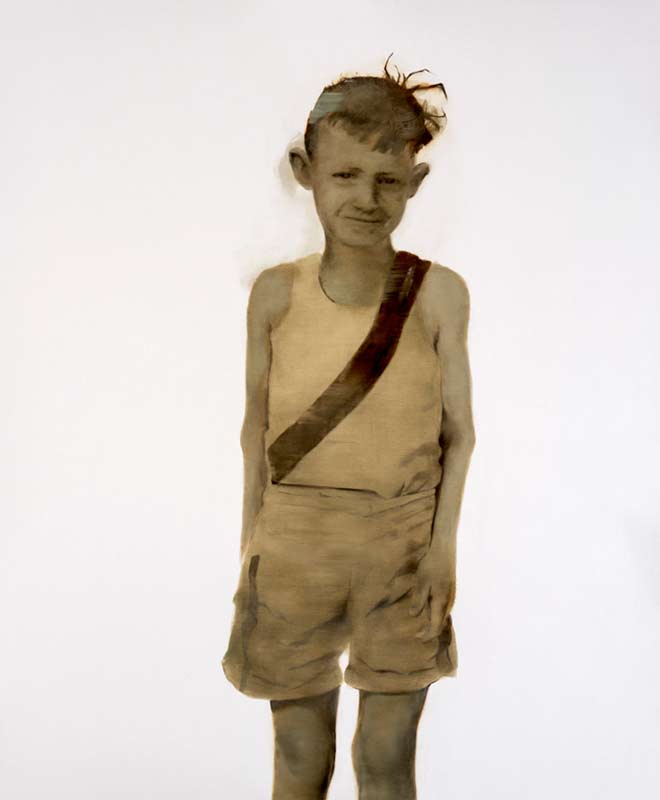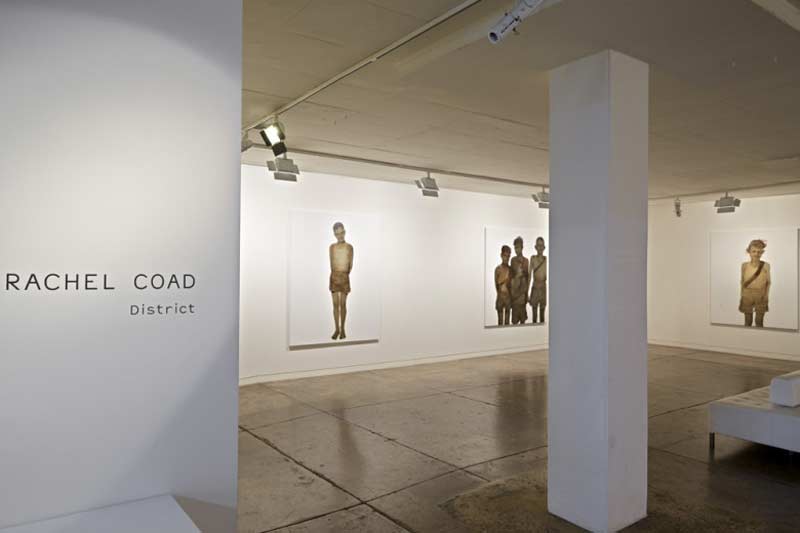 July 25, 2015
Rachel Coad's paintings in District depict rural Australians in the post war era.
Rachel Coad
born 1971, Western Australia
EDUCATION
1989–91 Diploma in Art and Design, WA Met. School of Art and Design
1992–93 Travel UK
1994–03 Illustrator and designer, The West Australian Newspaper
5-year Residency at Customs House, Fremantle
2009  Propel Youth Arts Mentor
2010  Studio Escalier, Paris, Winter at the Louvre drawing program
SOLO EXHIBITIONS
2016 Retro-spective, Holmes a Court Gallery, Margaret River, WA
2015  District, Gallerysmith, VIC
2014  Juncture, Gallerysmith, VIC
2012 Rachel Coad, Perth Galleries, WA
Frontier, Gallerysmith, VIC
2011  New Work, ROA Gallery, London
2010  New Paintings, Gunyulgup Galleries, WA
Legacy, Perth Galleries, WA
2009  Pack, Gallery 27, London
2008  Gunyulgup Galleries, WA
2007  Clusters, Perth Galleries, WA
2006  Narrative, Gunyulgup Galleries, WA
2005  48 King St, Perth, WA
2004  Murray St, Perth, WA
GROUP EXHIBITIONS (including ART PRIZES & AWARDS)
2016
Black Swan Prize for Portraiture – WINNER
Bankwest Art Prize – finalist
2015
Doug Moran Prize – semi-finalist
Black Swan Prize for Portraiture – finalist
Bankwest Art Prize – finalist
2013
Holmes a Court Gallery, The Art of Sound, with the National Film and Sound Archive, WA
Bankwest Art Prize – finalist and winner of People's Choice Award
Albany Art Prize, – finalist
2012
Gallerysmith, Threehundredandthirty, VIC
Perth Galleries, WA
2011
ROA Gallery, London
Artitude open category – winner 2010
Wagner Art Gallery, NSW
Melbourne Art Fair, Perth Galleries
Holmes a Court Gallery, Ten, WA
2007
Customs House open studio, WA
Mine Own Executioner, Mundaring Arts Centre, WA
Metro 5 Art Award – finalist Vic
2006
Perth Galleries, WA
Metro 5 Art Award – finalist
2004
Cromwell Art Prize – finalist
2003
Australian Journalism Association – Print graphics prize
Katanning Art Prize – Highly commended
1997
Walkely Award – nominated for 'artwork'
MEDIA
2015 The Age, In the Galleries, review of District by Dan Rule, 15 August, 15
2012 The West Australian, 'Fight and Flight' by Lyn Diceiero
2012 The Age, In the Galleries, by Dan Rule
2010 Legacy burnt into artist's approach, The West Australian, Review by Ric Spencer, May 21
My Space, The West Weekend Magazine, March
Face to Face, Insite Magazine, Spring, p. 204
Expat Eye, Australian Art Market Report, issue one, 2010
2009 This is London Magazine
In London
The London Paper  – Meet the artist
The Australian Times, London – Coad breaking
The West Australian – Artists puts expats in big picture
2007 The West Australian– Portraits from face-to-face
Artists Chronicle– Cover image, Nov
RTR Fm radio interview
The Fremantle Gazette  – "Rachel shines again"
2006 The Fremantle Herald  – "Ms Coad cracks it"
The Fremantle Gazette – "Young artist in hunt for coveted national prize"
2005  The West Australian– "WA pair up for prize"
The Great Outdoors, channel 7 – Painting featured in The Outram Hotel
2004 PostcardsWA – Gallery interview and review – channel 9
2003 Perth Woman Magazine  – Artscape "Moving pictures"
2002 The West Australian– "Artist frames brothers", Portrait of the Mickelberg Brothers
COLLECTIONS
Holmes a Court Collection
Cromwell Collection
Santa Maria College Collection
Private collections: Australia, Holland, Hong Kong Singapore, USA, UK and Japan