Lee Salomone graduated from the South Australian School of Art in 1991. He works in a range of media – including installation, photography, sculpture and works on paper. His work addresses both the contemporary world around him and his cultural heritage, with Italian peasant traditions having provided a life-long source of inspiration for his practice.
Fundamentally a story-teller, Lee Salomone makes use of the 'existing': by combining physical objects with lived experiences and observations, he creates narrative, history and memory, both national and personal. Salomone describes his sculptures as 'contemporary artefacts'. We can't think of a more apt term!
Lee Salomone has presented more than 25 solo shows and been curated to more than 60 group exhibitions in his career both here and in Berlin. Exhibitions of note include Palimpsest (1999–01, 2009), at Mildura Arts Centre, Breeding Ground (2008) at Jam Factory, Adelaide, and CACSA Contemporary 2010: THE NEW NEW (2010) at Contemporary Art Centre of South Australia, Adelaide.
He lives and works in Adelaide, South Australia.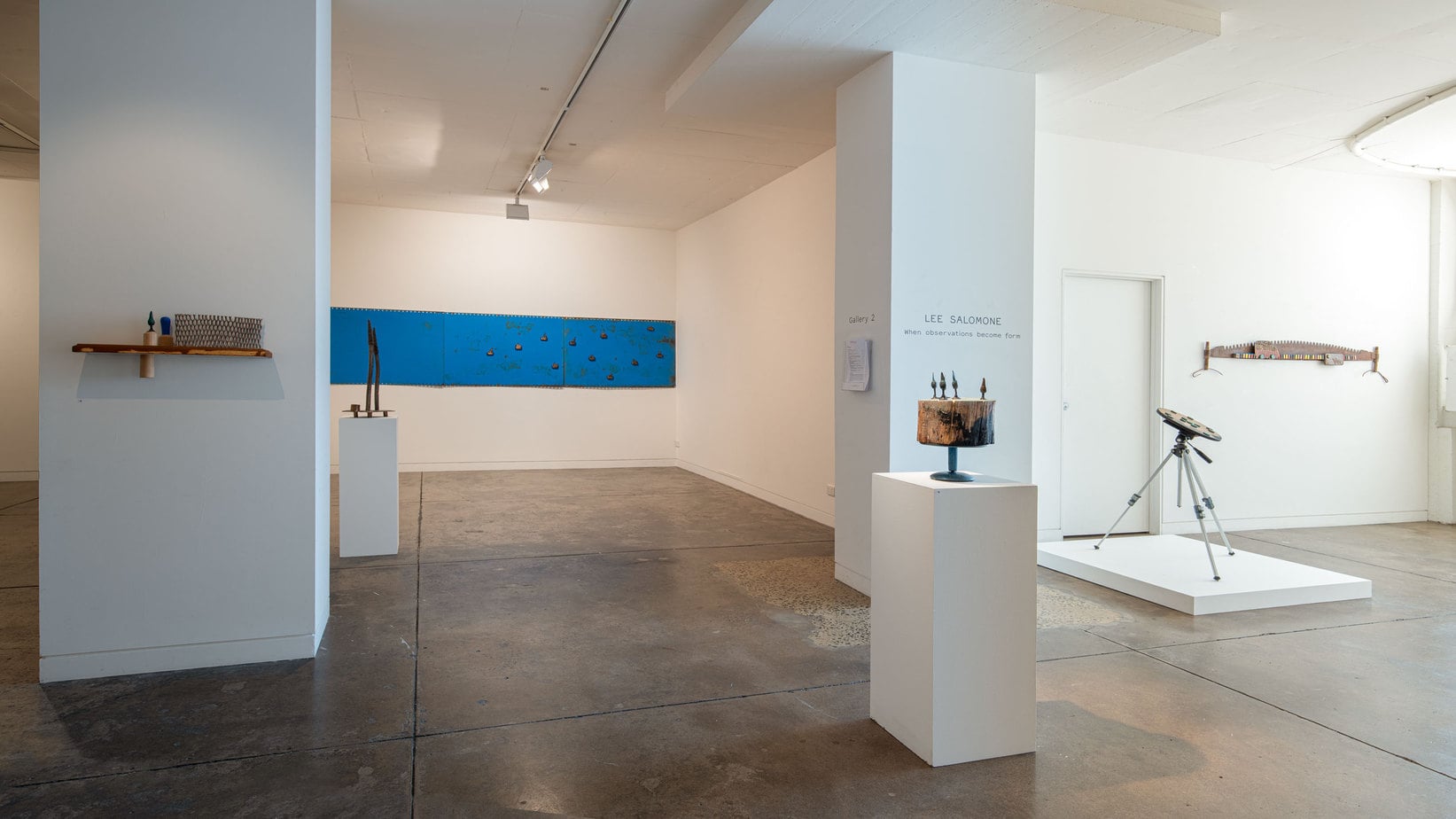 January 29, 2021
When observations become form draws upon what ABC international affairs journalist Stan Grant refers to as the three founding realities that comprise Australia: First Nation People, the British tradition, and the richness of migration. A fourth thread evolved during the course of the exhibition, the Australian landscape.
Lee Salomone
lives Adelaide
Tertiary studies
1991 Bachelor of Arts, Visual Arts, University of South Australia, Adelaide, Australia
1988 Associate Diploma in Art, North Adelaide School of Art, Adelaide
1986 Certificate in Art, North Adelaide School of Art
Solo exhibitions
2021 When observations become form, Gallerysmith, Melbourne
2016 Bronze Age, Gallerysmith Project Space, Melbourne
2016 witness, The Light Gallery, Centre for Creative Photography, Adelaide
2014 The Beauty of small moments Gallerysmith Project Space, Melbourne
2013 Reflektionen Atelier Terra, Berlin, Germany
2013 Hirsute collection Feltspace, Adelaide
2012 Other voices Australian Experimental Art Foundation, Adelaide
2010 der letzte wild lebende Fisch Galerie Kurt im Hirsch, Berlin, Germany
2009 interconnected Gallery 25, Mildura
2008 new work, old concerns Watch This Space, Alice Springs
2008 speicherplatz galerie december, Berlin, Germany
2008 letting go Prospect Gallery, Adelaide
2007 after image Greenaway Art Gallery, Adelaide
2005 Silent Installations galerie kurt im hirsch, Berlin, Germany
2004 planetary and personal Greenaway Art Gallery. Adelaide
2004 Transference Tin Sheds Gallery, Sydney
2003 Between beauty and theory Gabriel Gallery, Melbourne
2002 Between beauty and theory Gallery 4A, Sydney
2001 Human Nature Greenaway Art Gallery. Adelaide
2001 footnotes from a periphery Riddoch Art Gallery, Mt. Gambier
2000 Between beauty and theory Watch this Space, Alice Springs
1999 footnotes from a periphery Experimental Art Foundation, Adelaide
1999 Evidence Nexus Gallery, Adelaide
1997 Untitled 6 x 3 metre billboard, Adelaide
1994 As seen on TV Looking at the Billboard, Adelaide
1993 Intermittent [RE] Gallery, Adelaide
1993 Open Inspection Critical City, Adelaide
1992 Missing in Action Post West, Adelaide
Group exhibitions
2021 Remade, Gallery 1855, Tea Tree Gully, Adelaide, South Australia
2021 Finalist, Heysen Prize for Landscape, Hahndorf Academy, Hahndorf, South Australia
2020 Love in the time of Covid-19, online exhibition, www.solidarity.gagprojects.com
2019 Finalist, 10th Prospect Portrait Prize, Newmarch Gallery, Prospect, Adelaide
2019 small works 2019, Brunswick Street Gallery, Fitzroy, Melbourne
2017 Finalist, 2017 Whyalla Art Prize, Whyalla South Australia
2017 Plant Cure, Central Booking, Haber Space, New York, USA
2017 Side by Side II, Prospect Gallery, Adelaide
2017 Tree Stories, Section #1 Gallery, Thebarton, Adelaide
2017 artroom5, Adelaide, Australia
2017 Hand over, Murray Bridge Regional Gallery, South Australia
2016 Breezeway House Warming Art Exhibition, Aldinga Arts EcoVillage, Aldinga, SA
2016 Finalist, The Heysen Prize for Landscape 2016, Hahndorf Academy, Hahndorf, SA
2015 Finalist, Whyalla Art Prize 2015, Whyalla South Australia
2015 CACSA Contemporary, Light Square Gallery, Adelaide, South Australia
2015 Winter Solstice, Gallerysmith, North Melbourne, Victoria, Australia
2015 32nd Sculpture Survey 2015, Gomboc Gallery, Western Australia
2015 Provenance, Adelaide Central School of Art, Adelaide, South Australia
2015 Pocket Art, Gallery 1885, Tea Tree Gully, South Australia
2014 Of Obscured Significance, Murray Bridge Regional Gallery, South Australia
2013 Galerie Gondwana, Berlin, Germany
2013 Revealed2: CollectorSpace, Anne & Gordon Samstag Museum Of Art, Adelaide
2013 Crystal Palace, Flinders University Art Museum, Adelaide
2012 Finalist, 37th Alice Prize, Araluen Arts Centre, Alice Springs
2012 The Watershed Art Prize, John Harvey Gallery, Salisbury, Adelaide
2012 CACSA@70 Contemporary Art Centre of South Australia, Adelaide
2012 Finalist, 2012 ForestrySA Wood Sculpture Competition, Riddoch art gallery
2012 Finalist, Limestone Coast Art Prize, Keith Institute, South Australia
2011 Finalist, Prospect Portrait Prize 2011, Prospect Gallery, Adelaide
2011 Generations Wollongong City Gallery, Wollongong, NSW
2011 Selection Section #1 Gallery, Adelaide
2011 Materials and Histories artroom5, Adelaide
2011 Home Stories, Adelaide Central Gallery
2010 The New New Adelaide, Australia
2010 Home is where the heart is, Migration Museum
2010 Adelaide Festival, Adelaide
2009 Finalist, Prospect Portrait Prize 2009, Prospect Gallery, Adelaide
2009 Murray Darling Palimpsest #7, Mildura, Victoria
2008 Art Forum Kulanshi 2008 Art Centre Kulanshi, Astana, Kazakhstan
2008 Breeding Ground Jam Factory, Adelaide
2007 Drei Traeumer galerie kurt im hirsch, Berlin
2006 in other words ArtSpace, Adelaide Festival Centre, Adelaide
2005 Finalist, The Waterhouse natural history Art Prize, South Australian Museum. Adelaide
2003 Finalist, The Waterhouse natural history Art Prize, South Australian Museum. Adelaide
2003 Sydney Fong Gallery, Geraldton, Western Australia
2003 Watch this Space, Alice Springs, Northern Territory
2002 Installations Stills Centre for Contemporary Photography, Melbourne
2002 terra primus Red Room Gallery, Adelaide
2001 Caveat Top Floor Gallery, Adelaide
2001 Palimpsest #4 Red Cliffs, Victoria
2000 Installations Stills Contemporary Art Centre of South Australia
2000 Country Port Pirie Regional Art Gallery, South Australia
2000 Palimpsest #3 Mildura, Victoria, Australia
1999 Landing2 Contemporary Art Centre of South Australia, Adelaide
1999 Palimpsest #2 Mildura Arts Centre, Mildura
1998 Masque Nexus Gallery, Adelaide
1998 Beware of the Dog North Adelaide School of Art, Adelaide
1996 Finalist, Gasworks Outdoor Sculpture Exhibition Melbourne
1996 the human form as art Prospect Gallery, Adelaide
1996 polar madlove North Adelaide School of Art, Adelaide
1996 Fringe Gallery, Adelaide Fringe Festival, Adelaide
1995 Materials North Adelaide School of Art, Adelaide
1994 Great Manifestations Lion Arts Centre, Adelaide Fringe Festival
1993 Postcard Show Linden Gallery, Melbourne
Selected articles, bibliography, reviews
John Neylon Hand Over, The Adelaide Review, Issue 444, February 2017, pages 37-39
Art Collector, Issue 72, April-June 2015, pages 118-119
Jane Llewellyn Of Obscured Significance. Visual Arts, The Adelaide Review. Issue 416, October 2014, page 36.
Southern Write. SA writers Centre Inc. June 2014. Front cover image: I can't see tomorrow.
Invisiblecity, Issue 07 : Remote. Desire, pages 31 – 33.
Invisiblecity, Issue 06 : No theme. Colours & lines, pages 31 – 33.
Ken Bolton http://aeaf.org.au/events/critical-writing.html. Archive. vol. 12,4
Louise Nunn Building Blocks, Arts Scene, SA Weekend Magazine, The Advertiser, 22.09.2012, page 21
John Neylon Art interprets history The Adelaide Review, Issue 373, March 2011, page 38-39
Australian Art Collector, issue # 55, January – March 2011, page 304
Lisa Harms Artlink, vol.30, no 4, page 80 – 81
Louise Nunn Cutting edge Hit, The Advertiser, 02.12.2010, page 8
The Last of the Wild Fish Artnotes, Art Monthly, issue 233 Sept. 2010, page 57
Catherine Murphy Survival Instinct Bulletin, April – June 2009, pages 16 – 21
The Oceans between and the idea as a bridge Kunst, 0804, page 45
Ioana Veleanu The oceans and the idea as a bridge Exberliner, May 2008, page 38
Lauren Sutter Artlink, vol. 28, no 2, page 94
Louise Nunn Makers and mentors Review, The Advertiser, November 18, 2006, page12 – 13
Louise Nunn Rough work reveals images in the sand The Advertiser, May 24, 2004, page 85
Artlink, vol. 24, no1, page 76
On the road Artstate, number 01, 2004 page 7
Diversity, Arts in a Multicultural Australia, Australia Council, February / 2003
The Garden of the imagination Artstate, issue 24, summer 2002, page 22
Wendy Walker Exploration of textured landscape The Advertiser, 10-10-2001, page103
Kieran Finnane Between beauty and theory Artmonthly on line, reviews, 15-08-2000
Neil Fettling Theorising the regions Artlink, vol. 20 #3, September 2000, pages 13, 57-59
Stephanie Radok Mildura's Palimpsest Real Time, June July 2000, No 37, page 11
Stephanie Radok footnotes from a periphery Adelaide Review, # 191, August 1999, page 36
Tim Lloyd Front page views The Advertiser, 31-07-1999, page 50
Stephanie Radok World enough and time Adelaide Review, No 181, October 1998, page 37
John Barbour Critical art in the city Broadsheet, vol. 26, no 2, Winter 1997, page 21
Mark Thompson Blokes & Sheds The return of thrift, pages 22-23, Harper Collins, Australia
Mark Stephens Broadsheet, vol. 24, no 1, Autumn 1995, pages 15 18
Sheree Tirrell arts monthly, The Advertiser, January 1995, pages 10-11
David O'Halloran The Advertiser, 03-11-1993, page 23
Louise Dauth Artlink, vol. 12, No 4, Summer 1992 / 1993, page 5
Catherine Kenneally Agenda 23, May / June 1992, page 27
Awards, grants, residencies
2016 Project Grant. Arts SA 2014 Project Grant. Arts SA
2011 Eran Svigos award for best visual art,
2011 Adelaide Fringe 2008 Artist Grant, ArtsSA
2005 Project Assistance Artist Grant, Arts South Australia
2002 Selected for inaugural Kultour from South Australia, Australia Council & Nexus
2001 Residency, Media Resource Centre, Adelaide
1996 Dept for the Arts and Cultural Development, South Australia
1995 Pat Corrigan Artist Grant, National Association for the Visual Arts
1994 Pat Corrigan Artist Grant, National Association for the Visual Arts
1994 Dept for the Arts and Cultural Development, South Australia
1993 Pat Corrigan Artist Grant, National Association for the Visual Arts
Collections
2017 Unley Museum Collection, Adelaide, Australia
2016 AAC archivio arte contemporanea, numero civico cultural association, Rovereto, Italy
2009 Mildura Arts Centre, Victoria, Australia
2009 Migration Museum, A Division of the History Trust of South Australia
Private collections throughout Australia and Germany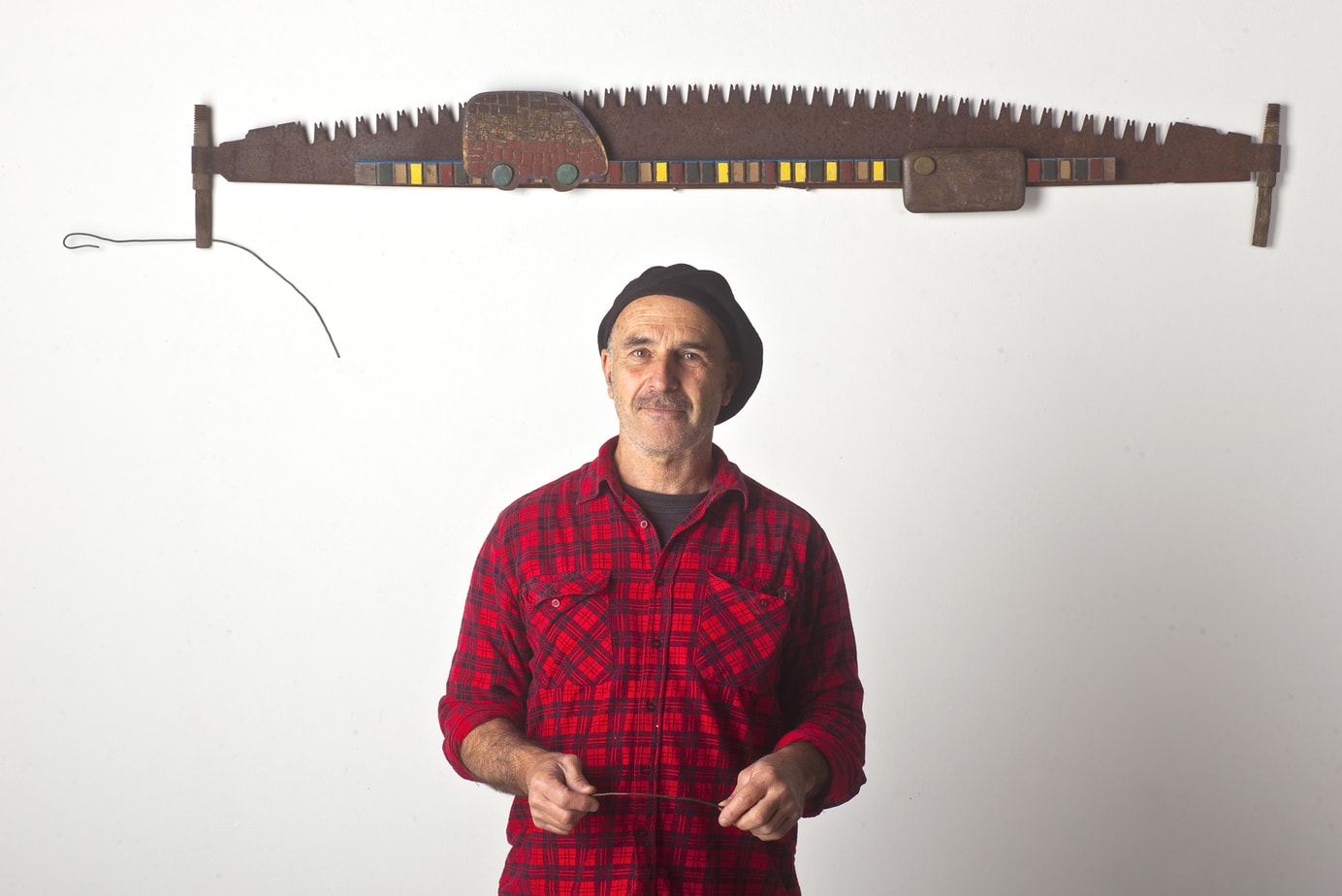 February 17, 2021
Gallerysmith is delighted to announce that we now represent contemporary artist Lee Salomone. Artist Lee Salomone graduated from the South…