In a quest to find universal values, Junko Go's paintings are not tied to a particular art movement. Instead, they possess a unique aesthetic encompassing elements of painting, drawing and storytelling that combine her Japanese heritage with an Australian perspective. An interest in dualism results in works that are simultaneously abstract and figurative, simple and complex.
Go's paintings provide the opportunity to meander, search, rest, analyse; what at first glance appears a simple motif becomes a multifaceted story, woven over time by layers of paint and intertwining imagery.
Born near Kyoto in Japan, Go left Japan for New York, where she studied fine art, and came to Australia in 1992 where she continued her studies at the University of Tasmania. She is a full-time artist, working from her studio in Launceston.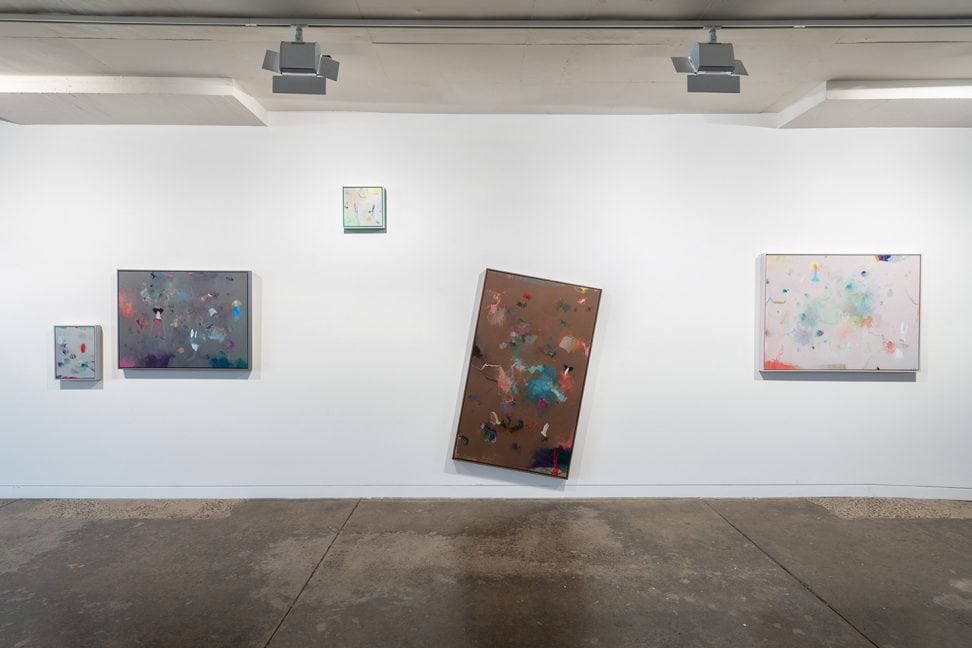 July 25, 2019
Fable and its translation to contemporary culture has sustained the painting practice of Junko Go for the past decade. Her new series looks at Lewis Carroll's seminal work and includes a range of paintings and accompanying 'Junko philosophies'.
JUNKO GO
Born in Japan, lives and works in Tasmania
EDUCATION
2006   Bachelor of Contemporary Art, University of Tasmania, TAS
2001    Diploma of Arts, Craft & Design, TAFE Launceston, TAS
1984-86  Studied Drawing at Duchess Community College, NY, USA
1977    Bachelor of English/American Literature, Doshisha University, Kyoto, Japan
SOLO EXHIBITIONS
2019
Down the Rabbit Hole, Gallerysmith, VIC
2017
Me and My Beautiful Ugly Cakes, Gallerysmith, VIC
2016
all about…wild, gentle, happy, sad, crazy and sensible, Handmark Gallery, Hobart, TAS
UnStill Life, Gallerysmith, Melbourne, VIC
2014
all about…piano man, Handmark Gallery, Hobart, TAS
2013
one+one, Gallerysmith, Melbourne, VIC
2012
all about…summer, Handmark Gallery, Hobart, TAS
another kind of fable, Gallerysmith, Melbourne, VIC
2011
a kind of fable, Harrison Galleries, Sydney, NSW
2010
all about… animals, Handmark Gallery, Evandale, TAS
tea is for…, Harrison Galleries, Paddington, NSW
2009
blue is for…, Handmark Gallery, Hobart, TAS
all about… blooming, Gallery 101, Melbourne, VIC
2008
all about… flowering, Handmark Gallery, Hobart, TAS
2007
all about… hungry, Handmark Gallery, Hobart, TAS
2006
all about… trees, Gallery 101, Melbourne, VIC
2005
all about… happiness, Handmark Gallery, Hobart, TAS
Me and My Ugly Mountain, Academy Gallery, Launceston, TAS
2003
all about… dogs, Handmark Gallery, Hobart, TAS
2001
all about… goats, Handmark Gallery, Hobart, TAS
1999
all about… birds, Handmark Gallery, Hobart, TAS
1998
all about… fish, Handmark Gallery, Hobart, TAS
1996
animal kingdom, Handmark Gallery, Hobart, TAS
1995
Junko Jungle, Dalmeny Gallery, Evandale, TAS
SELECTED GROUP EXHIBITIONS
2019
Celebrating Our Landscape, Handmark Gallery, Hobart, TAS
Still Life Exhibition, Handmark Gallery, Evandale TAS
2018
Landscape Exhibition, Handmark Gallery, Hobart & Evandale, TAS
2017
Hyper-Botanica, Gallerysmith, Melbourne, VIC
2016
Christmas Show, Gallerysmith, Melbourne, VIC
Still Life Show, Handmark Gallery, TAS
2015
Celebration of North(Tasmania), Handmark Gallery, TAS
Christmas Show, Gallerysmith, Melbourne, VIC
Still Life Show, Handmark Gallery, TAS
Tasmanian Landscape Show, Handmark Gallery, TAS
2014
Threehundredthirty Exhibition, Gallerysmith, Melbourne, VIC
Still Life Show, Handmark Gallery, TAS
Celebration of North(Tasmania), Handmark Gallery, TAS
Tasmanian Landscape Show, Handmark Gallery, TAS
John Glover Landscape Prize, Finalist, Evandale, TAS
2013
Tasmanian Art Award 20th Anniversary Winners Exhibition, TAS
Celebration of North(Tasmania), Handmark Gallery, TAS
Tasmanian Landscape Show, Handmark Gallery, TAS
Threehundredthirty Exhibition, Gallerysmith, Melbourne, VIC
2012
Out of Darkness, Gallerysmith, Melbourne, VIC
Celebration of North(Tasmania), Handmark Gallery, TAS
Tasmanian Landscape Show, Handmark Gallery, TAS
Threehundredthirty Exhibition, Gallerysmith, Melbourne, VIC
Celebration of North(Tasmania), Handmark Gallery, TAS
2011
Walk on the Wild Side, Harrison Galleries, Sydney, NSW
Celebration of North(Tasmania), Handmark Gallery, TAS
Tasmanian Landscape Show, Handmark Gallery,
Threehundredthirty Exhibition, Gallerysmith, Melbourne, VIC
John Glover Landscape Prize, Finalist, Evandale, TAS
2009
UnStill Life, Burnie Regional Art Gallery, Burnie, TAS
2006
Wallpaper, Carnegie Gallery, TAS
2006-2008
Wallpaper Touring Exhibitions – Burnie Art Regional Gallery,TAS, QVMuseum & Art Gallery, TAS, Wagga Wagga Regional Gallery, NSW
2004
Devils and Angels, Academy Gallery, University of TAS, Launceston, TAS
AWARD AND PRIZE EXHIBITIONS
2019
John Glover Landscape prize, Tasmania (Finalist)
2018
Hutchins Art Prize, Tasmania (shortlisted)
2011
John Glover Landscape Prize, Tasmania (judge's commendation)
2005
Dean's Roll of Excellence, Faculty of Arts, University of Tasmania
2004
City of Burnie Art Award, Burnie, Tasmania (highly commended)
Dean's Roll of Excellence, Faculty of Arts, University of Tasman
2003
Royal Launceston Art Prize, Queen Victoria Museum and Art Gallery, Tas
2002
Alfred Evershed Award, TAFE Tasmania (shortlisted)
Kym Clayton Art Award, TAFE Launceston, Tas (shortlisted)
Tasmanian Art Award, Eskleigh, Tas (shortlisted)
2001
Tasmanian Art Award, Eskleigh, Tas (shortlisted)
COLLECTIONS
2017                       The Sebel Hotel Launceston
2009                       Art Bank Australia
2007                       Art for Public Building Scheme Tasmania, Royal Hobart Hospital
February 8, 2019
It is with great delight that we announce Junko Go as a finalist for the John Glover Art Prize. Celebrating the…