Jane Guthleben is a still-life painter, known for her paintings of native flora, birds and insects. By following the voyages of British and other early botanists and explorers, Guthleben's painting practice places greater scrutiny on Australia's historical and environmental past, seeking to bring attention to species which were collected, documented and are now, often, extinct.
Guthleben's robust and painterly compositions take their compositional cues from the Dutch Golden Age, but with a palette that plays nostalgically on 1950s kitsch and a sun-drenched Australian landscape.
Jane Guthleben studied a Bachelor or Fine Arts with honours at the University of New South Wales in 2015. Guthleben has been a finalist in The Archibald Prize (2020), the Mosman Art Prize (2019,2012), the Portia Geach Memorial Portrait Prize (2018) among others.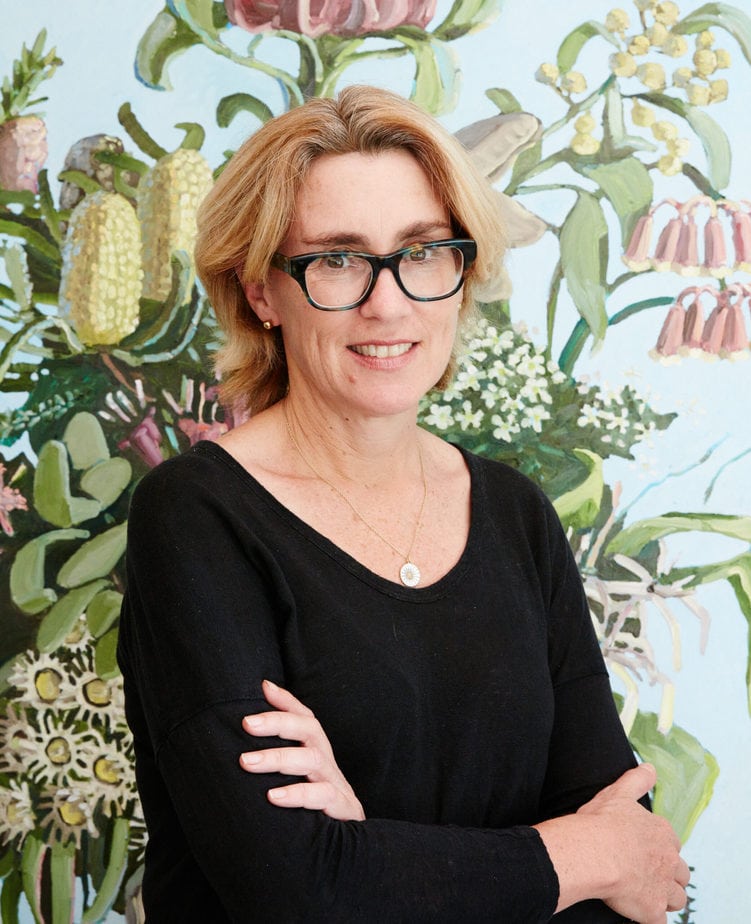 Bird in Hand, 2022, solo exhibition at .M Contemporary
Guthleben goes back in time to create her large floral works, mining historical accounts of Australian flora and birds contemporaneous with the heyday of the Still Life painting boom in Europe.
For BIRD IN HAND, Guthleben researched the earliest accounts of flora and birds made immediately after British colonisation of Australia in 1788. These include paintings by anonymous convict artists, known collectively as "Sydney Bird Painter" or "Port Jackson Painter", held in the State Library of New South Wales. She has also drawn from written accounts of flora and birds encountered in the first days of the colony. Using these as a starting point, she combines the species in large arrangements that loosely approximate traditional Dutch floral Still Lifes. In some compositions, endangered birds stand in the place of flowers, and in the background lie parched arid planes or windswept coastlines. In some cases the species she references are now extinct.
Installation images of FLORILEGIUM, 2021, solo exhibition at Edwina Corlette Gallery
Bush Arrangement with Staghorn 2021
Bush Arrangement with Staghorn 2021 is an immersive diptych of Australian bush flora. The long format of the painting hints at an impossibly lush Australian landscape and features quintessential flora from the Sydney basin. Without a horizon or other reference point for the viewer, the arrangement is neither a still life, nor a landscape painting, but rather a never-ending dreamscape of vegetation that is both familiar and alien, inviting yet impenetrable, and fragile yet eternal. It references Guthleben's fascination with 17th Century Dutch Still Life painting, in which flora is composed into extravagant arrangements, and where, in vanitas tradition, the viewer is asked to contemplate their morailty – in this case, their impact on the environment.
December 12, 2023
Gallerysmith closes the 2023 curtain on December 12 with the annual exhibition, GOLD CHIP. At this one-night-only event, the gallery presents…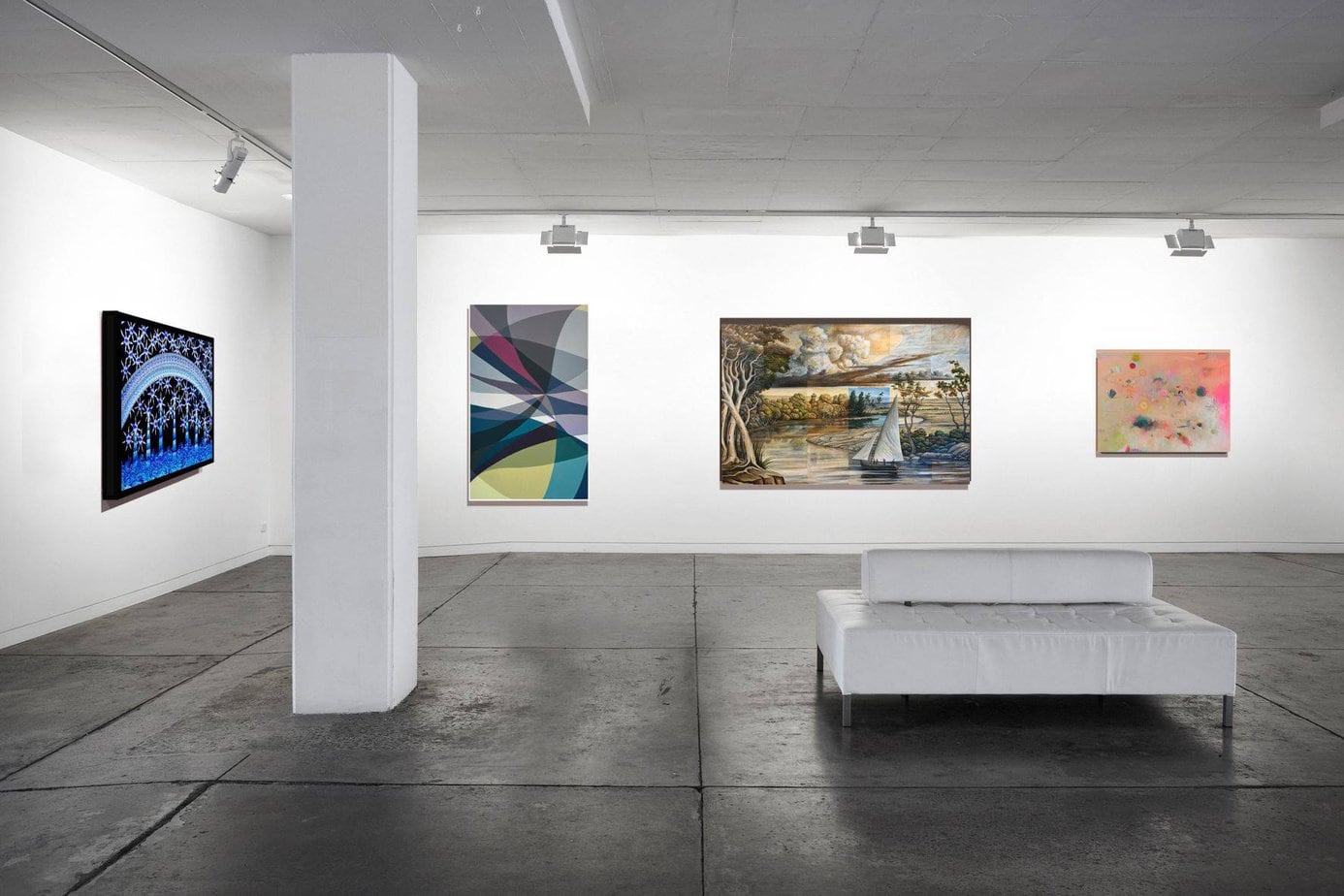 February 4, 2023
Gallerysmith launches its 2023 exhibition program with a group exhibition which celebrates 15 years of gallery operations. This exhibition features works by more than 50 artists who have shown at the gallery between 2008 and 2023....
Jane Guthleben
Born Bairnsdale, Victoria, lives and works in Sydney
Education
2015       Bachelor of Fine Arts, Honors, UNSW Art and Design
Solo Exhibitions
2022       BIRD IN HAND, M Contemporary, Sydney
2021      FLORILEGIUM, Edwina Corlette, Brisbane
2021      AN EVENING AT MT WILSON, M Contemporary, Sydney
2020      BUSH CHORUS, M Contemporary, Sydney
2020      GRANDIFLORA, Edwina Corlette Gallery, Brisbane
2019      ORNAMENT, M Contemporary, Sydney
2019      POSY, Edwina Corlette Gallery, Brisbane
2018      FLORALIA, M Contemporary, Sydney
2017      FLORA DOMESTICA, M Contemporary, Sydney
2017      REMOTE, Incinerator Art Space, Sydney
2016      OBJECT & IMAGE, Incinerator Art Space, Sydney (with Peter Finlay)
2011      HOME, Charles Hewitt Gallery Sydney
2008      DELICATES, Sydney
2007      RECENT PAINTINGS, Sydney
2006      PAINTINGS, Sydney
Selected Group Exhibitions
2023       XV: PAST PRESENT FUTURE, Gallerysmith, Melbourne
2020      Retracing, Art Space on the Concourse, Sydney
2020       Frontlines: Takayna to Adani, Hobart
2019       Sydney Contemporary, Carriageworks, represented by M Contemporary, Sydney
2019       Heroine, M Contemporary, Sydney
2018      Sydney Contemporary, Carriageworks, represented by M Contemporary, Sydney
2018      Platform 10, Edwina Corlette Gallery, Brisbane
2018      At the End of the World, M Contemporary, Sydney
2017      Multitasking, 107 Projects, Redfern, Sydney
2017      Three Painters Sharing a Studio, Ewart Gallery, Sydney
2016      Object & Image, Incinerator Art Space, Sydney
2016      Interior Motives, 107 Projects, Sydney
2016      Young Artists Initiative, M Contemporary, Sydney
2016      Internal Affairs, Art Month, Janet Clayton Gallery, Sydney
2015      Holiday, 107 Projects, Sydney
2013      Small is Beautiful, Charles Hewitt Sydney
2012      Views and Visions, Charles Hewitt Gallery, Sydney
2011      Think Big, Charles Hewitt Gallery, Sydney
2010      About Flowers, Charles Hewitt Gallery, Sydney
2010      Something Personal 2, Charles Hewitt Gallery, Sydney
Selected Awards and Residencies
2022      BigCi Residency, Bilpin NSW
2021      Archibald Prize Salon des Refuses, Finalist
2021      Portia Geach Memorial Award, Finalist
2021      Hawkesbury Art Prize, Finalist
2020      Archibald Prize, Finalist
2020      Chateau d'Orquevaux Residency Prize, France, Finalist
2020      The Old School Residency, Mt Wilson
2020      Portia Geach Memorial Portrait Prize, Finalist
2020      Waverley Art Prize, Finalist
2019      KAAF Art Prize, Finalist
2019      NG Art Creative Residency Art Prize, Highly Commended
2019      Mosman Art Prize, Finalist
2019      Doug Moran Portrait Prize, Semi-finalist
2019      Portia Geach Memorial Portrait Prize, Finalist
2019      Archibald Prize Salon des Refuses, Finalist
2018      Portia Geach Memorial Portrait Prize, Finalist
2018      Eutick Memorial Still Life Award, Finalist
2018      Little Things Art Prize, Finalist
2018      UNSW Greenhouse Residency, Fowlers Gap, NSW
2017      Ravenswood Women's Art Prize, Finalist
2016      Young Artist Initiative Contemporary Art Award, M Contemporary, Sydney, Finalist
2015      UNSW Greenhouse Residency
2015      UNSW Painting Prize, Artscene Derivan Award
2015      Fishers Ghost Art Prize Finalist
2014      UNSW Jenny Birt Award Highly Commended
2013      UNSW Fowlers Gap Scholarship
2012      Mosman Art Prize, Finalist
2011      National Trust NSW Harper's Mansion art prize, finalist, Highly Commended
2010      ABC 702 Art Prize, Finalist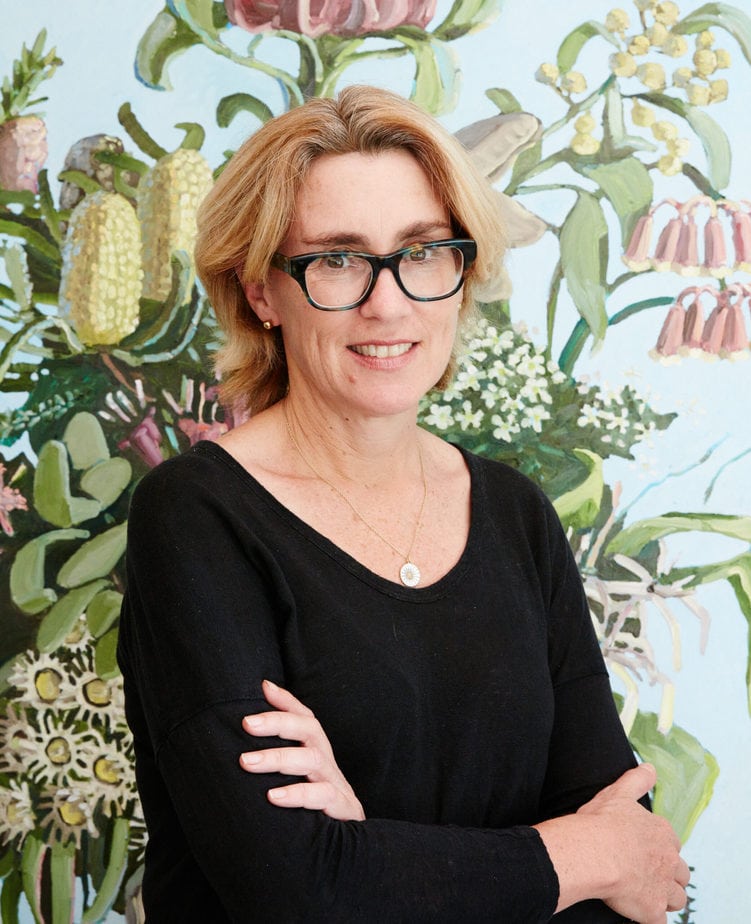 May 7, 2022
Gallerysmith is delighted to announce that we now represent Jane Guthleben. Jane Guthleben is an environmental devotee, and known in…
October 16, 2021
Zali, As Flora, 2021, oil on linen, 178cmx122cm Jane Guthleben is a finalist, Portia Geach Memorial Award. Congratulations Jane!…