Fiona Hiscock's practice emerges from a long historical tradition of utilitarian ceramics which use nature for decorative inspiration. Oversized, hand-built vases, pitchers, bowls and cassoulets provide a canvas upon which the artist depicts the life cycle of botanical specimens, allowing her abiding interest in the natural world to flourish. These ceramic objects depict a range of location specific species including Banksia Serrata which grows along the eastern Victorian coastline and native Grevillea found in Arnhem land.
Born in Ballarat and based in Melbourne, Victoria, Hiscock studied Fine Art History at Melbourne University in 1986 and Fine Art Ceramics at RMIT in 1991. Since then, she has completed a Post Graduate Honors Degree in Fine Art (ceramics) at RMIT. Her works are represented in numerous public collections, among them Parliament House, Ballarat Fine Art Gallery and Gold Coast City Art Gallery.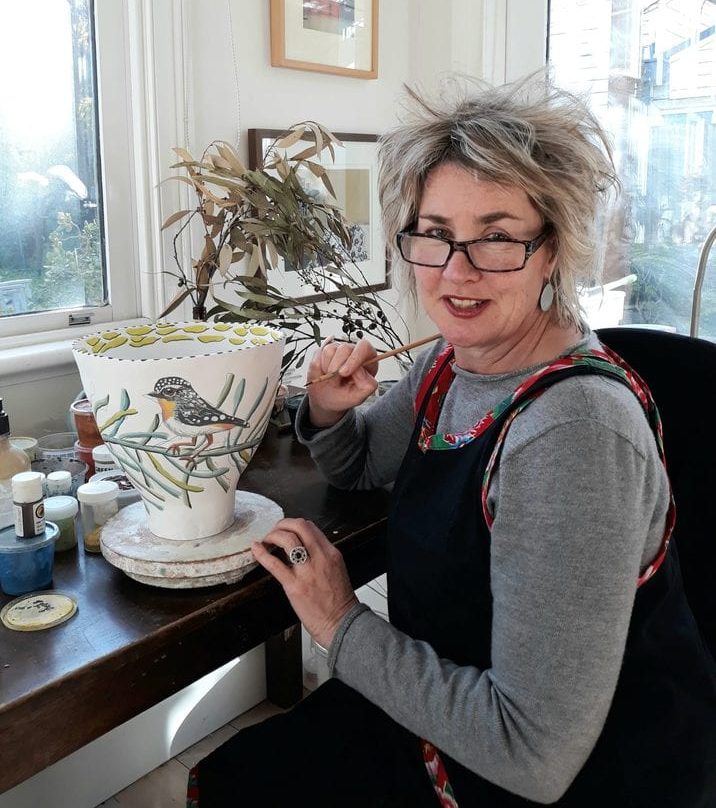 March 8, 2021
On International Women's Day 2021 we acknowledge the achievements of girls and women around the world. We celebrate those who dedicate their lives to sport, art, health, family, politics, business and a host of other creative, professional and selfless endeavours. We thank those who are our mothers, grandmothers, daughters, sisters, colleagues and friends....
Fiona Hiscock
born Ballarat 1965, lives Melbourne
QUALIFICATIONS
1993   Post Graduate Honors Degree, Fine Art, (ceramics) RMIT
1991    BA Fine Art Ceramics, RMIT
1986    BA Melbourne University, Fine Art History
SOLO EXHIBITIONS
2020 Habitat, Gallerysmith, Melbourne
2018  Woodland, Gallerysmith, Melbourne
2015  Country, Gallerysmith, Melbourne
2014  Beaver Gallery, Canberra
2011  Jan Murphy Gallery, Brisbane
2010  Mossgreen Gallery, Melbourne
2009  Beaver Gallery, Canberra
2006  Beaver Gallery, Canberra
2003  Beaver Gallery, Canberra
2003  Christine Abrahams Gallery, Melbourne
2000  Beaver Gallery, Canberra
2000  Christine Abrahams Gallery, Melbourne
1998  Christine Abrahams Gallery, Melbourne
1997  Craft Victoria, Melbourne
SELECTED GROUP EXHIBITIONS
2020
Ceramics 2020, Maunsell Wickes Gallery, Sydney
SC2020, Sydney Contemporary online art fair
2017
Maningham Art Award, Victoria
2017    
Omnus Terra, NCECA Conference, Portland US
Hyper-Botanica, Gallerysmith, Melbourne
2015
Victorian Craft Award, Craft Victoria
2014
Tribute to Janet Mansfield, Mossgreen Gallery
Efflorescent, Goulburn Regional Art Gallery
The Course of Objects, Manly Regional Art Gallery
Big Ceramics, Craft Victoria
2013
Sunshine Coast Ceramic Art Prize, Manningham Ceramic Art Prize
2011
Ewers, Pitchers, Jugs and Jars, Narek Gallery, NSW
2010
Gold Coast Ceramic Art Award, Queensland
2009
Town Country, Craft Victoria
2007
New Under the Sun, Jewish Museum of Australia
2005
Hobart Art Prize, Tasmania
Chilli, Cudgegong Gallery, NSW
2004
Celebrating the Master, Schepsi Gallery, Melbourne
2003
Changing Surfaces, Shepparton Art Gallery
2002
Centenary Craft Prize, Parliament House, Canberra
2002
Alice Springs Craft Award, Alice Springs
Freeman Gallery 3, Hobart Tasmania
1999
Drawn in Form, travelling show – Brisbane City Gallery and Object Gallery
Alice Craft Award, Northern Territory
1999
Blessed be the Work, Jewish Ritual and Contemporary Craft, Jewish Museum
1998
Gold Coast Ceramic Art Award, Queensland
Mornington Peninsula Craft Event, Mornington Arts Centre, VIC
1997
Faenza International Ceramic Art Competition, Italy
Moonee Valley Festival Contemporary Craft Exhibition, Essendon, VIC
Sidney Myer Fund Australia Day Ceramic Award, Shepparton Art Gallery
New Visions, (5 Artists) Ballarat Fine Art Gallery, Ballarat, VIC
1996
Gold Coast Ceramic Art Award, Queensland
Sidney Myer Fund Australia Day Ceramic Award, Shepparton Art Gallery,
1995
Mornington Peninsula Craft Event, Mornington Arts Centre, VIC
Gold Coast Ceramic Art Award, Queensland
1994
Mornington Peninsula Craft Event, Mornington Arts Centre, VIC
1993
Fresh, Student Award Exhibition, Craft Victoria
AWARDS AND RESIDENCIES
2018          Bundanon Trust Artist in Residence
2017          Museum of Applied Arts and Sciences (Powerhouse Museum) Sydney
2014/15    Artist in residence, Flemington Primary School
2002         Alice Springs Art Award
1996          Gold Coast Ceramic Art Merit Award
1997          Moonee Valley Festival Contemporary Craft Award
1991          Walker Ceramics Prize for Excellence to a student at RMIT
1991          National Gallery Society of Victoria Award, RMIT
REVIEWS AND PUBLICATIONS (selected)
The Canberra Times 'Fiona Hiscock adorns ceramics with vibrant native flora and fauna', Kerry Anne Cousins, 25 Jun 14
Herald Sun Newspaper  Botanical Beauties, Karen Woods, 21 Jun 03
Herald Sun Newspaper "Fruits of an Urban Shed", Simon Plant, 3 Oct 98
Australian Ceramics Magazine 1999, 2009
The Australian Newspaper, Weekend Review "Objects of Desire" Jo Litson, 20 Jun 98
The Age Newspaper "Artists in Residence", Denise Ryan, Domain magazine, 29 Jul 98
The Age Newspaper "Size with Attitude" Zinta Jurjuans-Heard, 29 Apr 98
Masters of their Craft, Noris Ioannou, Craftsman House, 1997
Herald Sun Newspaper "The Vases that Fiona Built", Claire Sutherland, 10 May 97
Business Review Weekly "New Handle on Old Aesthetics Problem", Anna Long, 12 May 97
House and Garden Magazine "6 Rising Stars", December 1996
The Age Newspaper, Jenny Zimmer, 14 Dec 93, 4 Jan 94, 3 Mar 94, 1 Feb 96,28 May 97
Ceramics, Art and Perception Issues 11 and 30
COLLECTIONS
Ballarat Fine Art Gallery, Ballarat
Deakin University, Melbourne
Gold Coast City Art Gallery, Gold Coast
Jewish Museum of Australia, Melbourne
Shepparton Art Gallery, Shepparton
Queensland University of Technology, Brisbane
Parliament House, Canberra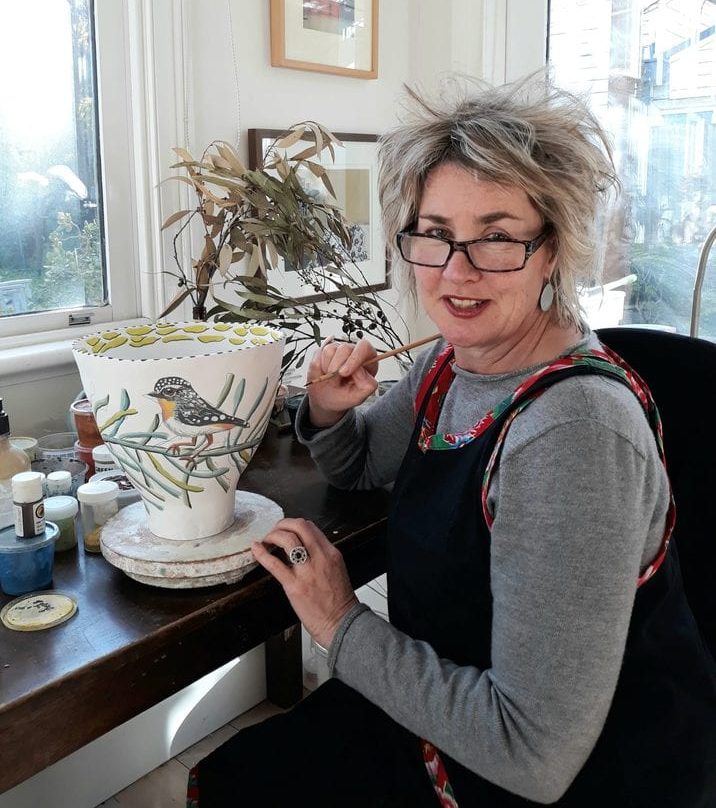 August 11, 2020
Fiona Hiscock's practice emerges from a long historical tradition of utilitarian ceramics which use nature for decorative inspiration. Oversized, hand-built vases, pitchers,…