Born in Toronto, Canada and living in Perth, Western Australia, Eva Ferndandez investigates her own pluralistic identity in relation to contemporary issues of global displacement and Spanish Diaspora in the 20th century. As the child of post Spanish Civil War migrants, Fernandez' family, like many others, were displaced and left with a fragmented history. By carefully delving into the spaces of her past, she unearths narratives in order to evoke images which piece together a shattered, emotional and forgotten past. Drawing on these fragments, her works embodies the traces, voices and memories from the past that are blended and embedded with reference to Spanish art and history.
Eva completed a Master of Arts at Edith Cowan University in 2002 and is currently undertaking her PhD. She has had six solo exhibitions and exhibited in several group shows nationally including, Girls on Film and Mix Tape at the Art Gallery of Western Australia, Transient States at Lawrence Wilson Art Gallery and more recently at the National Gallery of Victoria.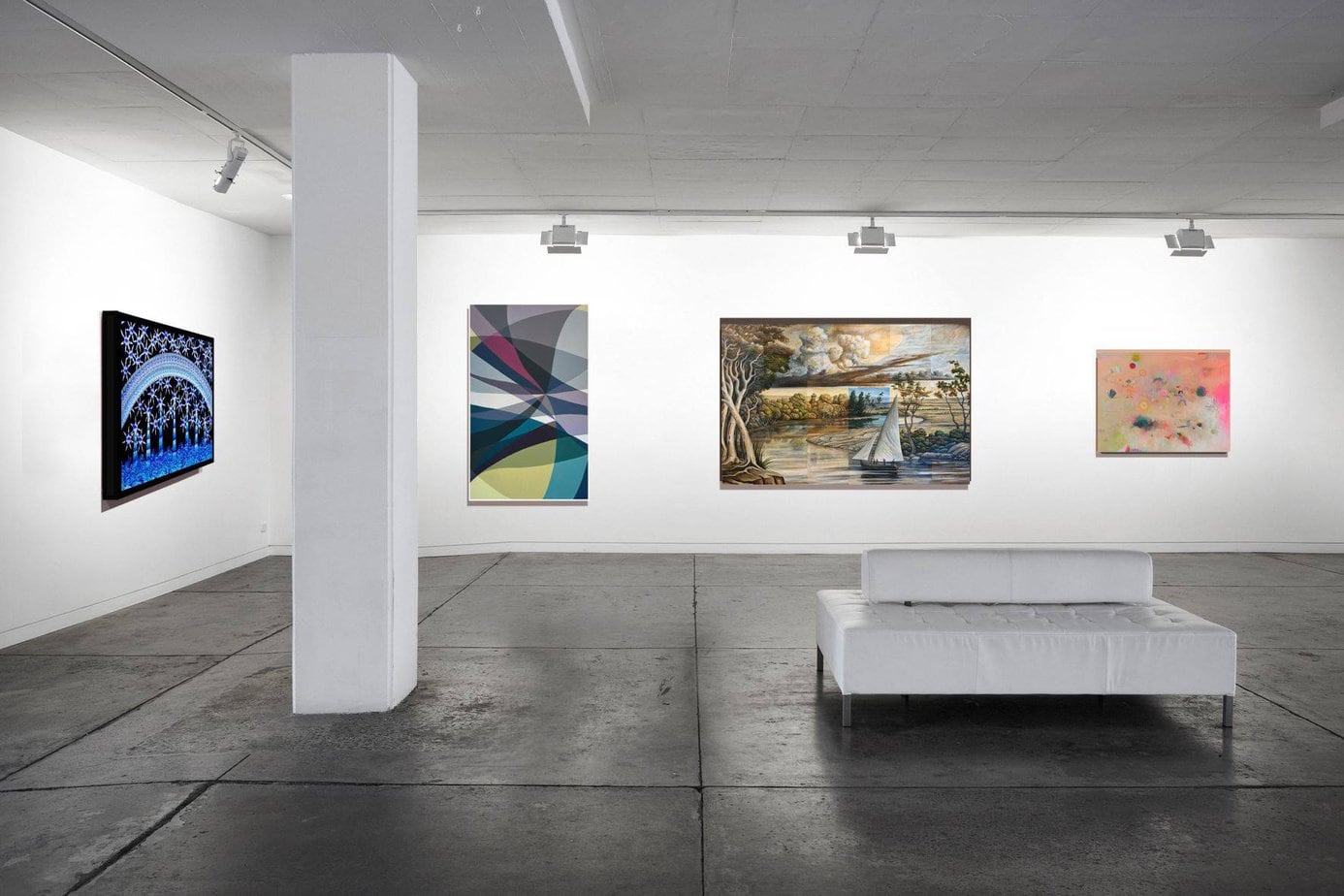 February 4, 2023
Gallerysmith launches its 2023 exhibition program with a group exhibition which celebrates 15 years of gallery operations. This exhibition features works by more than 50 artists who have shown at the gallery between 2008 and 2023....
EVA FERNANDEZ

Education

2019 PhD (currently being undertaken)
2002 Masters of Creative Arts, Edith Cowan University, Perth, WA
1996 Diploma of Applied Science – Photography, Central Institute of Technology, Perth, WA
1992 Bachelor of Visual Arts – Photography, Charles Sturt University, Albury, NSW
Selected solo exhibitions

2022 Edith Cowan: An Extraordinary Woman, Gallerysmith, Melbourne
2019 A rare bird in the lands, Gallerysmith, Melbourne
2019 A rare bird in the lands, Taipai Art Museum
2018 A rare bird in the lands, Turner Galleries, Perth, WA
2018 Re-Imagined Railways, Midland Junction Art Centre, Midland, WA
2016 Heresy to Heredity, Pakenham Street Art Space, Fremantle, WA
2013 Anonymous Sculptures, Midland Atelier, Midland, WA
2012 Tilt, Heathcote Museum and Gallery, Applecross, WA
2011 (terra) australis incognita, Fremantle Art Centre, Fremantle, WA
 Selected group exhibitions

2022
Crossroads 2022, curated by Ted Snell and Danielle Fusco, Gallery25, Edith Cowan University, Mount Lawley, WA
2020
Tracing the Swan, Holmes a Court Gallery, Vasse Felix, Margaret River, WA
2019
The Botanical: Beauty and Peril, Art Gallery of Western Australia, Perth WA
Tides: Swan River Stories Bidgoo bidjoo Derbal Yerigan bardip, Council House, Perth WA
2018
TILT Retrospective, Heathcote Gallery and Museum, WA
Antipodean Encounters, Midland Junction Art Centre, WA
Dark Swan, Pakenham Street Art Space, Fremantle, WA
Fremantle Print Award, Fremantle Art Centre, Fremantle WA
Minawarra Art Award, Armadale, WA
The Spaces Between Us, Bourn Vincent Gallery, University of Limerick, Ireland
2017
Stations of the Cross, Westley Uniting Church, Perth WA
The Space Between Us, Gallery 25, Edith Cowan University, WA
2016
The Space Between Us, Bunbury Museum, Bunbury WA
Makers and Machines, Mundaring Art Centre, WA
2015
No Second Prize, Gallery Central, Perth, WA
Still Life, Extraordinary, everyday, Mundaring Art Centre, WA
Minawarra Art Award, Armadale, WA
Home and Housed, Spectrum Art Space, ECU, M Lawley WA
I am, you are, we are, Chapter House Lane, Melbourne, VIC
2014
PICA Salon, Perth Institute of Contemporary Art, Perth, WA
Eggtooth Spectrum Gallery ECU
The swords of Damocles, Art Collective, Perth, WA
Florid, Turner Galleries, Perth WA
Beautiful Vermin, Gallery Central, Perth WA
Where lies the Land, Marshall Arts Gallery, Adelaide, SA
Florid, fortyfivedownstairs, Melbourne, VIC
2013
PCP 21 Years, Perth Centre for Photography, WA
PICA Salon, Perth Institute of Contemporary Art, Perth, WA
2012
Fremantle Print Awards, Fremantle Arts Centre
Assemblage, The Gallery – Ellenbrook WA
Divergence, Atelier, Midland Railway Workshops, Midland WA
Sixth Sense, Central Galley, Perth, WA
est. Mundaring Arts Centre, WA
Manifestations of Now, National Gallery Victoria, Melbourne, VIC
2011
Heroes or Villains? Old Court House Museum, Perth WA
Fremantle Print Awards, Fremantle Arts Centre
Wildflower Bouquets, Holmes a Court Gallery, Cowaramup WA
Turner Galleries, East End Gallery, Perth, WA
Mid West Art Award, Geraldton Regional Art Gallery, Geraldton
2011, 2010, 2009,2007, 2006, 2005, 2003, 2002 – Joondalup Invitation Art Award, Joondalup, WA
2010
Diagram, Junction Gallery, Midland, WA
2009
me-take: Indigenous self-representation in Photomedia, Christian Thompson, Dianne Jones and Tony Albert, catalogue essay by Brenda L. Croft, Perth Centre for Photography, Perth, WA
Transient States, Lawrence Wilson Art Gallery, Perth WA
2003
austrALIENS, PICA (Perth Institute of Contemporary Art), Perth, WA
Published articles/reviews

Stoelwinder, Jessie (2019, 6-7 July) Digs under nature's surface, The West Australian, Weekend Arts p. 87
Yeoman, William (2019, 3 November) Ways of seeing, The West Australian, https://thewest.com.au/entertainment/art/ways-of-seeing-ng-b881011028z, accessed 14 Nov 2018
Smith, Nyanda (2018) Towards Shared Social, Cultural and Visual Productions, https://rexptp.com/2018/08/28/towards-shared-social-cultural-and-visual-productions-by-nyanda-smith, accessed 17 Oct 2018
McNeill, Sarah (2016) The queen's tale, Post, Oct 1 2016, p.49
Van Der Merwe, Jude (2014) Florid, Artlink, Vol 34 #3 p. 95
Wilson, Laetitia (2014, July 12) Complex goods with boxes and dead birds, The Weekend West p. 102
Wilson, Laetitia (2013, July 13) Works connect with historic site, Weekend West, p. 87
Nicholls, Andrew (2013) Undiscovered Artists, Art Collector, p. 92
Weston, Gemma (2012, Dec 15) A sleek, clinical coldness, The West Australian, Weekend West, p. 75
Corbet, David (2012, May) FotoFreo 2012, Art Monthly pp. 23-26
Fitzpatrick, Donal (2011, June 1) A message from moving furniture, The West Australian today, p. 7
Spencer, Ric (2009, May 22) Photos seize momentum, The West Australian Today, p. 7
Grants, awards, commissions and residencies
2021-22 Parliament House Artist Residency, WA
2019 Postgraduate Research Scholarship
2018 Department of Local Government, Sport and Cultural Industries – Culture and the Arts (WA) Creative Development Program Grant
2018, 2016, 2014 – Minawarra Art Award winner
2018 Heathcote Cultural Precinct Artist Residency
2015 Department of Culture and the Arts, Mid-Career Fellowship $25000
2015 FORM Residency at 100 Hampton Road Fremantle, WA
2014 City of Bayswater Art Award winner
2014 Artsource Ignite Initiative Grant
2014 Brookfield Place Perth portrait commission- International Women's Day 2014
2013 FORM residency – Midland Railway Workshops
2012 Brookfield Place Perth installation commission
2012 Western Australian Department of Culture and the Arts, Development Grant
2011 Western Australian Department of Culture and the Arts, Development Grant
2010 Western Australian Department of Culture and the Arts, Development Grant
2008 Sir Charles Gardiner Award (honourable mention)
2006 Australian Post-Graduate Award
2006 Edith Cowan University Research Excellence Award
Collections
Artbank Art Gallery of Western Australia  Janet Holmes A Court, WA City of Perth, WA Central Institute of Technology, Perth WA Royal Perth Hospital St John of God Hospital Perth WA City of Melville – Heathcote Art Gallery and Museum Central Institute of Technology, Perth, WA Joondalup City Council, Joondalup, WA Polytechnic West, Midland, WA  Murdoch University, Perth, WA  Edith Cowan University, Perth, WA Charles Sturt University, Albury, NSW City of Perth, City of Armadale  City of Stirling City of Bayswater City of Swan Ronald McDonald House – QEII Medical Centre New Norcia Art Collection
May 26, 2022
Gallerysmith artist Eva Fernandez has three works featured in Crossroads 2022, an exhibition curated by Ted Snell and Danielle Fusco…
October 6, 2020
Eva Fernandez' practice is essentially concerned with the space which she inhabits in the context of the cultural legacy of…