ARTISTS | Christopher Pease
Christopher Pease is a Minang / Nyoongar man from South Western Australia, whose visual language is at once deeply embedded within the western history of figurative oil painting and traditional Indigenous storytelling. Western notions of home and land ownership and the consequent loss of Aboriginal culture are referenced throughout Pease's vocabulary of visual metaphor. His paintings often comprise references to western culture superimposed over scenes of traditional Indigenous ways of living and interacting with nature. His recent works include cross-sections of native flora which have metamorphosed into repetitive motifs and regimented decorative pattern such as those used in contemporary wallpaper designs, through which he reveals the problematic relationship between contemporary notions of living and the loss of Aboriginal traditional land and culture.
Pease is represented in numerous public collections around Australia including: National Gallery of Australia, Canberra; National Gallery of Victoria, Melbourne; Art Gallery of Western Australia, Perth; Queensland Art Gallery/Gallery of Modern Art, Brisbane; along with other public, and corporate collections as well as significant private collections both here and in the USA.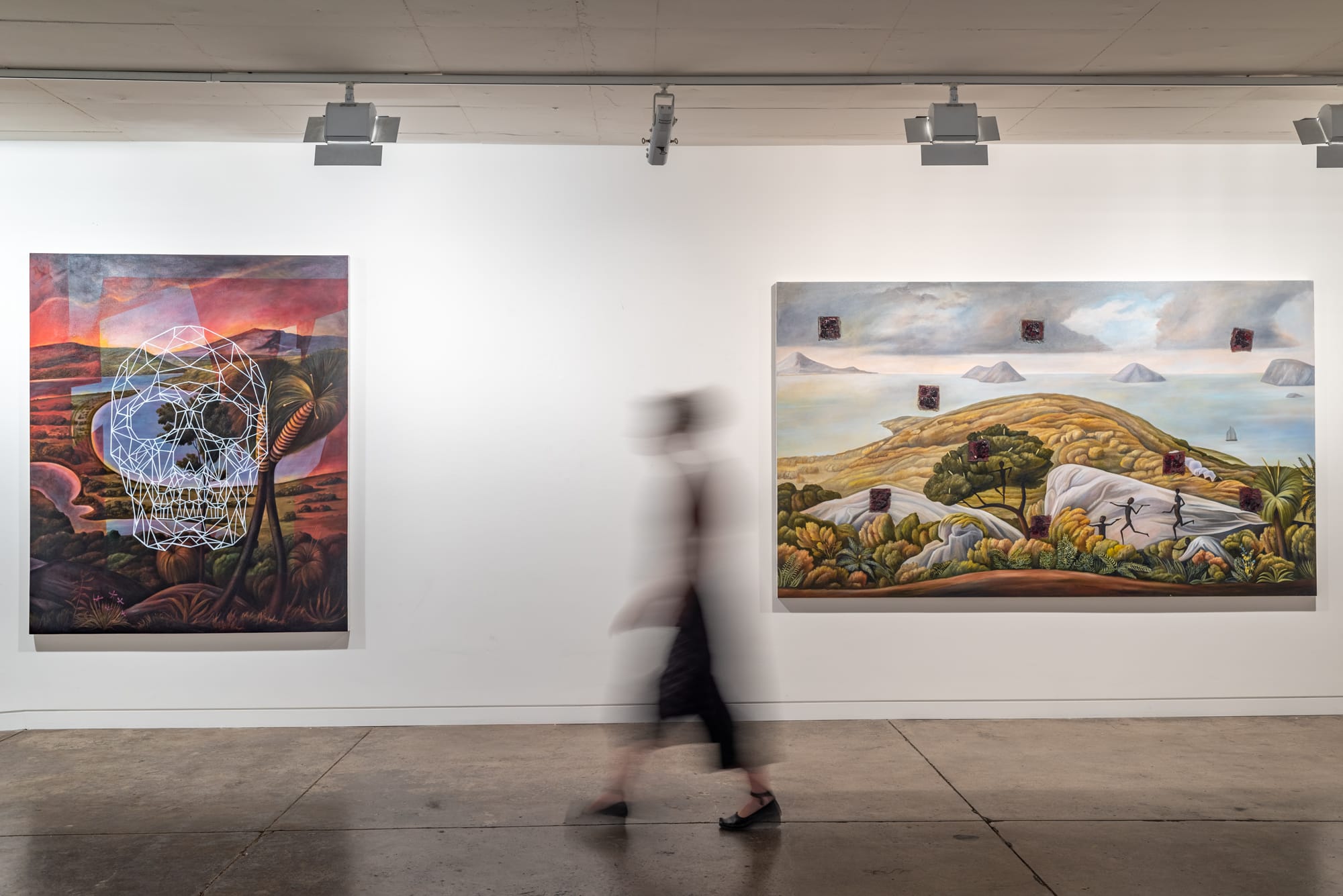 January 15, 2019
In 1834, English explorer and artist, Robert Dale, produced a series of drawings of Australia's south west coast that are widely regarded as the most ambitious attempt to document the Australian landscape in the 19th century. Produced as a series of etchings totaling 3m long, Dale's work depicts rolling hills in a vast panorama and is dotted with depictions of harmonious relations between English settlers and the Nyoongar. The six paintings which are collectively titled Minang Boodjar re-examine Dale's 19th century imagery at an epic scale in an attempt to focus our attention on the troubled notion of a romanticised account of colonisation.
Christopher Pease (Minang / Nyoongar)
born 1969, Western Australia, lives Dunsborough, Western Australia
EDUCATION
1998                  Graduate Diploma in Art & Design, Perth
SOLO EXHIBITIONS
2018                  Minang Boodjar, Gallerysmith, Melbourne
2013                  New Works, Christopher Pease, Michael Reid Gallery, Sydney
2012                  Welcome to Country, Gallerysmith, Melbourne
2009                  Christopher Pease, New Works – Goddard de Fiddes Gallery, Perth
2008                  Christopher Pease – New Paintings, Goddard de Fiddes Gallery, Perth
2005                  Christopher Pease, Goddard de Fiddes Gallery, Perth
2003                  Christopher Pease, Goddard de Fiddes Gallery, Perth
2000                  Christopher Pease, Goddard de Fiddes Gallery, Perth
GROUP EXHIBITIONS
2018                  Wild: Flora and Fauna in Australian Art, Hawkesbury Regional Gallery, NSW
                          Indigenous Australia: Masterworks from the National Gallery of Australia, me Collectors Room of the Olbricht Foundation, Berlin
2017                  A New World, curated by Richard Ennis, Incinerator Gallery, Melbourne
2014                  Family Matters, Holmes a Court Gallery, Heytesbury, WA
2012                  Australian Landscape: Present in the Now, Michael Reid Gallery Berlin
                           Murr-ma: Uncovering Aboriginal & Australian Contemporary Art, Berlin
2011                  Noongar Country 2011, Bunbury Regional Art Gallery
2010                  17th Biennale of Sydney, Museum of Contemporary Art, Sydney
                           Melbourne Art Fair, Melbourne
                           Nyoongar Dreaming, City of Joondalup Gallery
2009                  Western Australian Indigenous Art Awards, AGWA, Perth
                           Culture Warriors, Katzen Centre, Washington DC
2007                  First Indigenous Triennial, Culture Warriors, National Gallery of Australia
                            Nyoongar Native Title, John Curtin Gallery, Perth
                           Contemporary Nyoongar Painting, Goddard de Fiddes Gallery
2006                  Melbourne Art Fair, Goddard de Fiddes Gallery
                            Right Here, Right Now, National Gallery of Australia
                            Identity and Change, AGWA, Perth
2005                  22nd National Aboriginal & Torres Strait Islander Art Award, MAGNT
2004                  Melbourne Art Fair, Goddard de Fiddes Gallery
                            Works from the Collection, John Curtin Art Gallery
2003                  Group show with Ben Pushman and Sandra Hill, Goddard de Fiddes Gallery
                            South West Central, Art Gallery of Western Australia
2002                  19th National Aboriginal & Torres Strait Islander Art Award, Museum & Art Gallery of the Northern Territory
                            Ben Pushman, Sandra Hill, Chris Pease, Goddard de Fiddes, Perth
2001                  Mine Own Executioner, Mundaring Art Centre
                           Wide Open, Lawrence Wilson Art Gallery

COMMISSIONS
2018                  Barangaroo Towers, Sydney
2006                  Royal Netherlands Embassy Aboriginal Project
2004                  Perth Convention Centre
AWARDS
2009                  Highly commended, Western Australia Indigenous Art Award, AGWA
2002                  National Aboriginal & Torres Strait Islander Award, Prize for Painting
COLLECTIONS
National Gallery of Australia, National Museum of Australia, National Gallery of Victoria, Art Gallery of Western Australia, Queensland Art Gallery, Parliament House Collection, Canberra, Wesfarmers Collection, Edith Cowan University, Perth, Holmes a Court Collection, Kerry Stokes Collection, Australian Capital Equity, Perth Convention Centre, BHP Billiton Art Collection, John Curtin University, Perth, Murdoch University, Perth, University of Queensland Art Museum, City of Perth, Perth Convention Centre, Artbank, Museum of Contemporary Aboriginal Art, Utrect, Netherlands, Private collections Australia, USA and Europe
July 20, 2020
Christopher Pease will unveil a major new artwork on the rooftop of the Art Gallery of Western Australia in December…