Dena Kahan's painting practice aims to subvert our natural inclination for order and perfection.
Using museum collections as subject matter for still life painting, such as the world famous collection of glass botanical specimens in the Harvard Museum of Natural History, Kahan introduces ambiguities of scale, space and reflection to undermine the clear containment of the museum case. In doing so, she transforms museum objects into a kind of substitute romantic landscape, hinting at the awe of the natural world.
Working with thin layers of oil on linen, resulting in delicate and translucent surfaces, Kahan's application of paint keeps the focus upon the materiality, reflecting the delicate nature of her subject matter. Her paintings segue neatly into the art museum environment, evidenced by the survey exhibition of her work at Ballarat Fine Art Gallery in 2014.
Kahan's recent work extends her exploration of the natural history museum, taking as her subject the collection of antique botanical models at the Royal Botanic Gardens Edinburgh, the University of Aberdeen, the Museum of Applied Arts & Sciences in Sydney and the Herbarium Collection at Melbourne University. In these current works, insects infiltrate the sterile environment of the museum store or display case, drawn to these artificial replicas of the plant world. This imagery references the tradition of 17th century Dutch still life, in which plants and insects take on symbolic meanings and flowers of different seasons bloom together.
Photography: Chris Budgeon.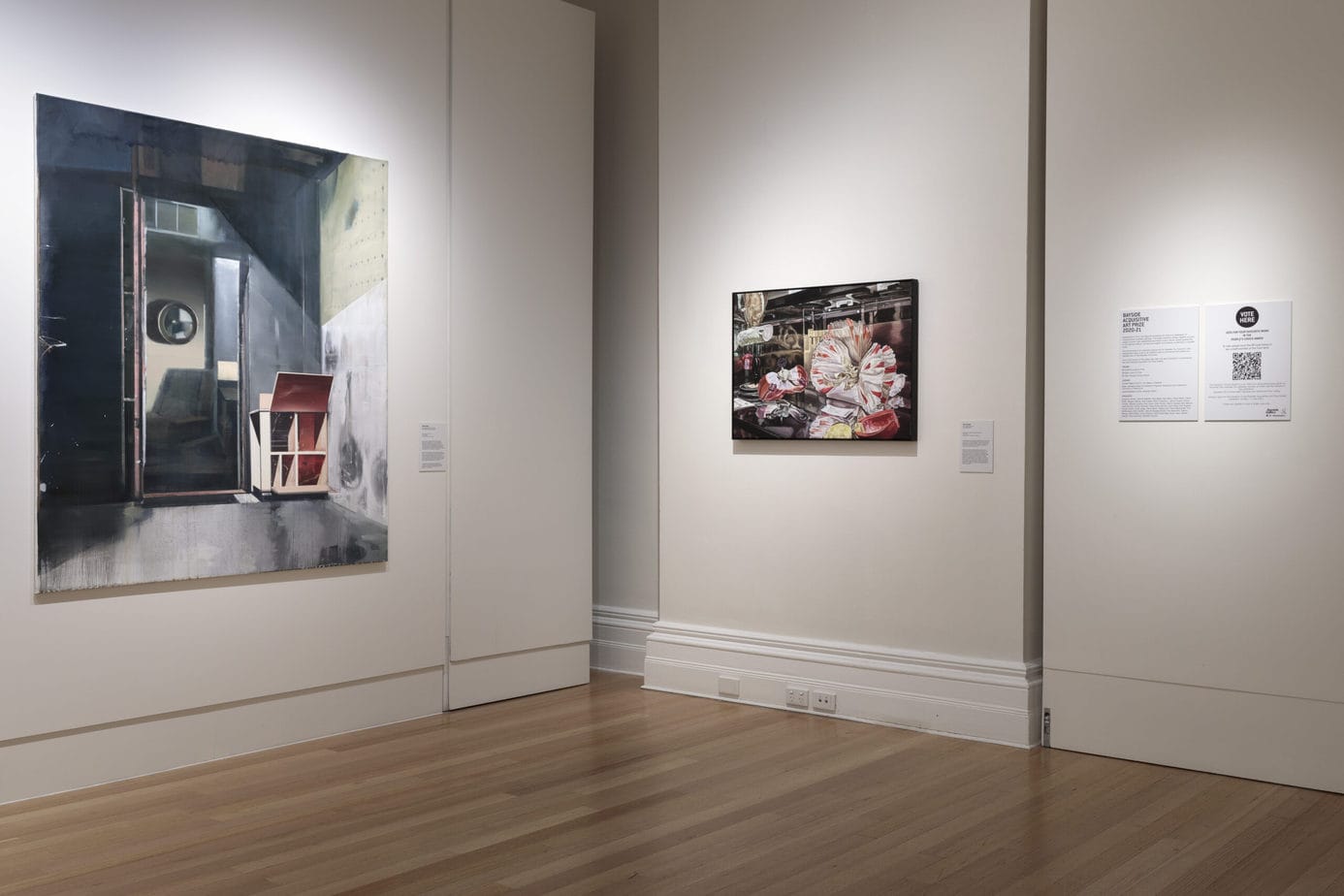 May 14, 2021
Dena Kahan's Painting Still Life with Dianthus and Bee is a finalist at the 2020/1 Bayside Acquisitive Art Prize
CV:
Dena Kahan
born 1960, lives in Melbourne
Education
2015     Masters of Arts by research, Federation University, Victoria
1992     Bachelor of Fine Arts, Victorian College of the Arts
1982     Bachelor of Arts, Honours Degree in Art History, University of Melbourne
Solo Exhibitions
2020
Hothouse 2, Gallerysmith, Melbourne
Hothouse, M Contemporary, Sydney
2018
Lure, Gallerysmith, Melbourne
2017
Herbarium, Gallerysmith, Melbourne
2015
Dena Kahan: The Glass Garden, Art Gallery Ballarat, Ballarat
2014
An Un-Natural History, Gallerysmith, Melbourne
2012
The Provisional Sublime, Gallerysmith, Melbourne
2011
Glass Garden, Gallerysmith, Melbourne
2009
Strange Garden, Red Gallery, Melbourne
2008
Recent Paintings, Fortyfivedownstairs, Melbourne
On Glass, Woodbine Art, Malmsbury
2007
The Idea of Perfection, Alluvial Gallery, Bendigo
2006
Looking Through Glass, Fortyfivedownstairs, Melbourne
2002
New Paintings, Dickerson Gallery, Melbourne
1997
Some things to do with string, WestSpace, Melbourne
1993
Looking Up, Linden Gallery, Melbourne
Selected Curated and Prize Exhibitions
2022
The Len Fox Painting Prize (finalist), Castelmaine Art Gallery
Bayside Acquisitive Art Prize (finalist), Bayside Gallery, Brighton
OMNIA Art Prize, St Kevin's College, Melbourne
2019
The Sublime Sea: Rapture and Reality (curated exhibition), Mornington Peninsula Regional Gallery
Arthur Guy Painting Prize, (finalist), Bendigo Art Gallery
Georges River Art Prize, (finalist), Hurstville Museum and Gallery, Sydney
2018
Recent Acquisitions, Town Hall Gallery, Victoria
Wyndham Art Prize, (finalist)
2017
Hyperbotanica, Gallerysmith, Victoria
2016
Rick Amor Drawing Prize, (shortlisted), Ballarat Art Gallery, Victoria
2015
Unintended (Refrains:), George Paton Gallery, University of Melbourne
2014
Stanthorpe Festival Art Show, WINNER, Stanthorpe Regional Art Gallery, QLD
Geelong Art Prize, (shortlisted), Geelong Art Gallery
Gold Coast Art Prize, (shortlisted) Gold Coast Art Gallery, Queensland
2012
Tidal: City of Devonport Art Award, (shortlisted), Devonport, Tasmania
McGivern Prize, (shortlisted), Maroondah Art Gallery
2010
Fletcher Jones art prize, (shortlisted), Geelong Gallery
Strange Nature, Red Gallery, Melbourne
2009
R&M McGivern Prize, (shortlisted)
In Modern Memory, Latrobe University Visual Arts Centre, Bendigo
2007
Darebin Art Prize, (shortlisted)
An intimate look, UPstairs Gallery, Bundanon Homestead, NSW
2006
Fletcher Jones Art Prize, (shortlisted), Geelong Art Gallery
Robert Jacks Drawing Prize, (shortlisted), Bendigo Art Gallery
In Modern Memory, Blindside Gallery, Melbourne
2004
Phyllis Palmer Gallery, La Trobe University, Bendigo
2003
Reunion, George Paton Gallery, University of Melbourne
2001-03
We Are Australian, Travelling Exhibition, Australia and abroad, Victorian Arts Centre
1999
Minim-art, Talk Artist's Initiative, Melbourne
1998
Carolyn Dew, Dena Kahan & Susan Hewitt, Talk Artist's Initiative, Melbourne
1997
Latrobe Street Gallery, Melbourne
1996
Love at the Carlisle Lodge Motel, Carlisle Lodge Motel, Melbourne
Everyone Goes to Dimmeys, Dimmeys shop window, Melbourne
1995
Artworkz 7, Gallery 101, Melbourne
Shifting Ground, Linden Gallery, Melbourne
Murdoch Prize Exhibition, Melbourne
1994
6 Easy Pieces, Elizabeth Boustead & Dena Kahan, Temple Studios, Melbourne
1993
Parcel Post Show, RM 4, Linden Gallery, Melbourne
1992
Platform, Melbourne
 Awards / Residencies
2015     Foundation Obras art residency, Evoramonte, Portugal
2014     Winner – Stanthorpe Art Prize, Qld
2008     Awarded a New Work Grant by the Australia Council for the Arts
2008     Studio Residency, Barbican Arts Trust, London
2005     Bundanon Artist's Residency
1995     Awarded Pat Corrigan exhibition grant
1989     Sponsored by the Ian Potter Foundation to study in Florence
1984     Awarded the Harold Wright and Sarah and William Holmes
Scholarships to study in the Department of Prints and Drawings, British Museum
Media/ Essays
Wondrous but strange: botanical collections and the contemporary artist, Alison Inglis, November 2012
After the Weather, Win News, Channel 9, 23, May 2007
Terri-Anne Kingsley, ABC Website, 14 May 2007
Jo Printz, Breakfast with Jonathan Ridnell, ABC Local Radio, Central Victoria, 14 May 2007
James Taylor, The Bendigo Advertiser, 17 May 2007
Amanda Smith, The Deep End, Radio National, 6 September, 2006
Penny Webb, The Age, 15 September, 2006
Megan Backhouse, The Age, 16 September, 2006
Stephen Haley, A reflection, on glass, Catalogue Essay, 2006
Megan Backhouse, The Age, 25 February, 2006
Amanda Johnson, New Paintings, Sky Pieces, Catalogue Essay, 2002
Megan Backhouse, The Age, July 2002
Sandra Bridie, Conversations between Carolyn Dew, Susan Hewitt, Dena Kahan
Rebecca Lancashire, The Age, 19 December, 1997
Anna Clabburn, The Age, 17 December, 1997
Collections
Bundanon Trust
Ian Potter Museum, Melbourne
Museum of Victoria
Town Hall Gallery, City of Boroondara, Melbourne
Lyceum Club, Melbourne
Private collections in Australia and abroad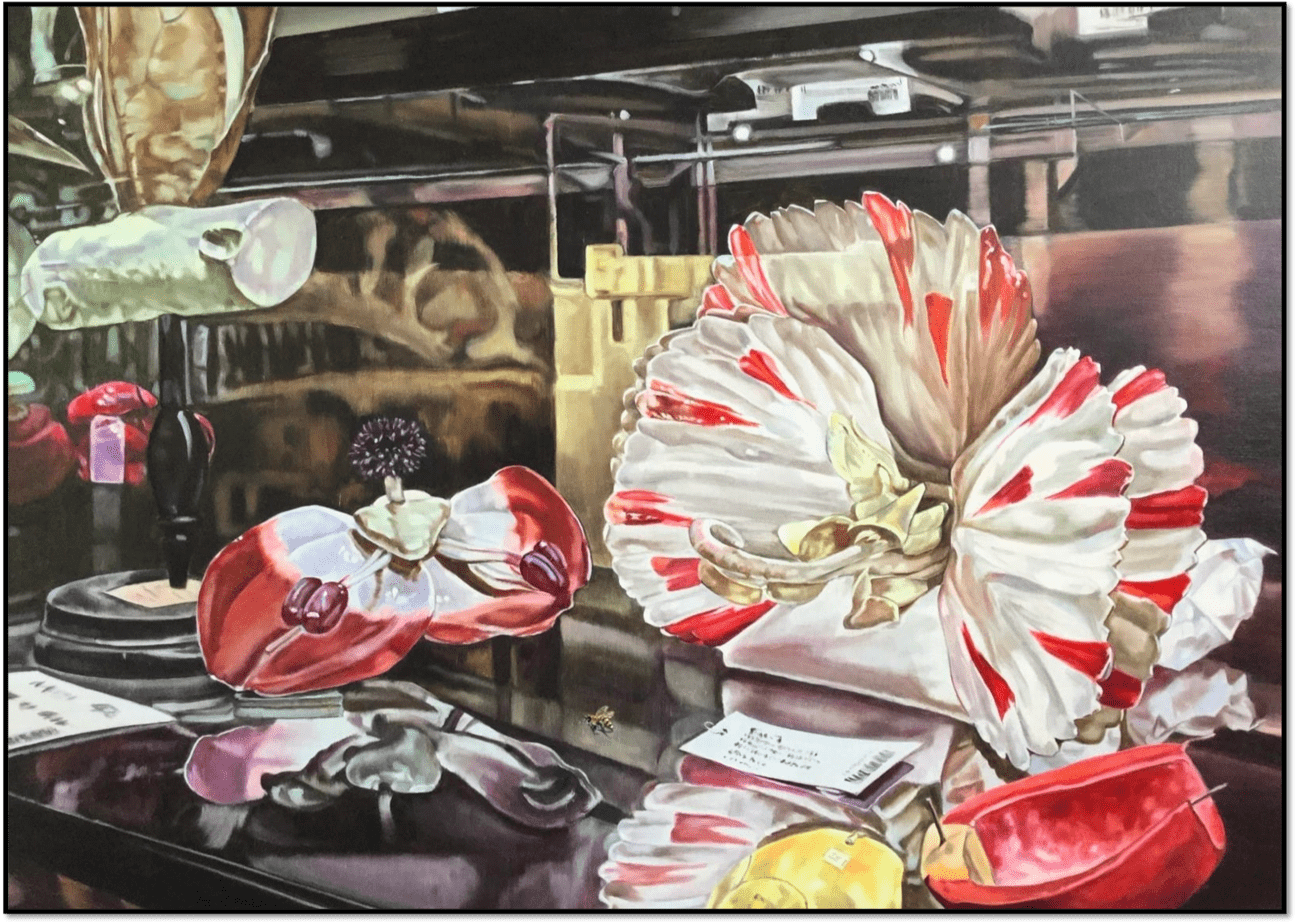 May 18, 2021
We're excited to share that Dena Kahan's painting Still Life with Dianthus and Bee, 2019, is a finalist in the…