ARTISTS | Ngaio Lenz (estate)
Ngaio Lenz' work reflects a nostalgia for the discarded and a reclamation of the past lives of found objects.
Informed by the natural processes of weather, time, cause and effect, Lenz' work celebrates the beauty of a well-worn surface and an aesthetic of imperfection. Developed as a visceral response to her environment, ambiguous organic forms play on negative and positive space; balancing, teetering, barely touching to create tension between the shapes. The varied materials employed are subjected to layering, peeling, scraping, scratching, heat and abrasion, in a similar way in which the earth's surface is exposed to the elements of fire, wind and water.
Lenz' process, equally accidental and purposeful, intuitive and thoughtful generates a narrative where the layering of history is revealed.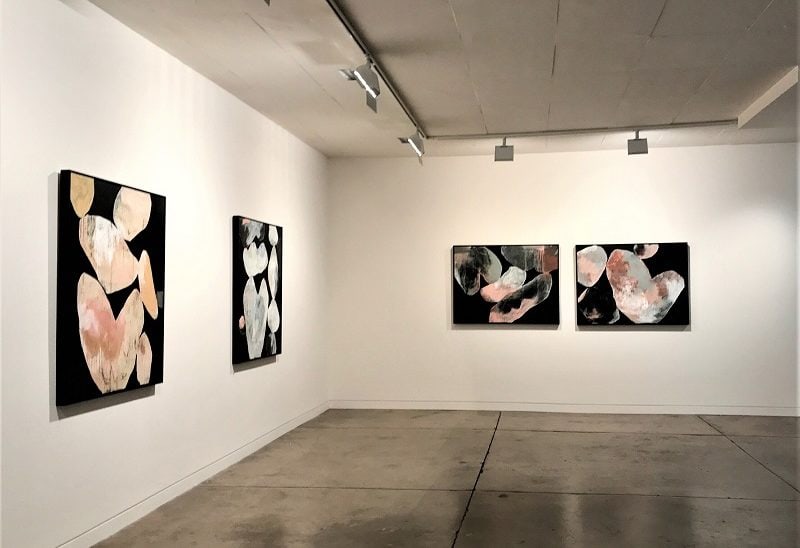 February 8, 2018
In an inadvertent nod to the slow-art movement, Heartland reveals paintings which express the memory of time, reflecting upon the flaws which appear along life's long journey.
NGAIO LENZ
1964-2018
Born Townsville. Lived Melbourne and Mackay, Australia

Education
Masters of Contemporary Art (High Distinction), UTAS
Solo Exhibitions
2018
Heartland, Gallerysmith, Melbourne, VIC
2016
An imperfect balance, Gallerysmith, Melbourne, VIC
Papercut garden, Boom Gallery, Geelong, VIC
2015
Landscape narratives, Gallerysmith, Melbourne, VIC
My head is a vessel, Brunswick Street Gallery, Melbourne, VIC
Equilibrium, Regional Arts House, Brisbane, QLD
Cactus garden, Boom Gallery, Geelong, VIC
2014
Balance, Milton House Gallery, Mackay, QLD
Kept Things, Artspace Mackay, Mackay, QLD
Balance, Percolator Gallery, Brisbane, QLD
Silhouettes After Chemo, Artspace Mackay, QLD
2013
Terrafirm, Boom Gallery, Geelong, VIC
Memoirs of a room, Art at St Francis, Melbourne, VIC
2012
Back to the room, Flinders Lane Gallery, Melbourne, VIC
Modern essays of a room, Umbrella Studios, Townsville, QLD
A room in time, Hand Held Gallery, Melbourne, VIC
Group Exhibitions
2018
Bayside Art Award (shortlisted), Bayside Arts and Cultural Centre, Melbourne
St Kevin's Art Show (shortlisted), St Kevin's College, Melbourne
2017
The Memory of Time, curated by Swee Lim, SJB, Melbourne
2016
Towards Abstraction, Gallerysmith, Melbourne
Artist Open House, Fremantle WA
2015
Winter Solstice, Gallerysmith, Melbourne
2006-2011
Libras Artists Book Exhibition, Artspace, Mackay, QLD
Subject matters, Artspace, Mackay, QLD
Scissors paper rock, Milton House Gallery, Mackay, QLD
Art on show, Show Society, Mackay, QLD
Lethbridge 10000, Lethbridge Gallery, Brisbane, QLD
Small works, Brunswick Street Gallery, Melbourne, QLD
Urban portraits, Architype Gallery, Sydney, NSW
Art on show, Mackay Show Society, Mackay, QLD
Water's Edge, Travelling Exhibition, Mackay, Cairns, Townsville, QLD
Subject matters 2, Artspace, Mackay, QLD
Artstreet, Mackay, QLD
Libras Artists Book Exhibition, Artspace, Mackay, QLD
Tropical Abstractions, Arthouse Gallery, Mackay, QLD
Great walks, Artspace, Mackay, QLD
Press
Sarah Werkmeister, Ngaio Lenz Paints Possibility, Art Guide Australia, 12 October 2016, http://artguide.com.au/ngaio-lenz
Mackay Artist to Exhibit Work in Brisbane Gallery, Sunshine Coast Daily, 5 May, 2015 https://www.sunshinecoastdaily.com.au/news/mackay-artist-exhibit-work-brisbane-gallery/2628712/
Ngaio Lenz' Equilibrium, scenest, 27 April, 2015, http://scenestr.com.au/arts/ngaio-lenz-s-equilibrium
Artist Tells of Brush with Death, Daily Mercury, October 17, 2014 http://www.pressreader.com/australia/daily-mercury/20141017/281767037475131
Regional Galleries Guide, Artspace Mackay: Exhibition Highlights, Art Collector magazine online, 2014, http://www.artcollector.net.au/ArtspaceMackay
Looking forward looking back: 150 years of Mackay: 1862-2012, 44 pp illustrated ex.cat., Tracey Heathwood, published by Artspace Mackay
Shakira Sellen, Bowled Over by Demand, Daily Mercury, 8 February 2012, https://www.dailymercury.com.au/news/bowled-over-by-demand/1264129/