Belinda Fox is a multi-disciplinary artist, working in printmaking, painting, ceramics, and sculpture. Her evocative works masterfully distill elements of abstraction with detailed renderings to express alternative possibilities limited only by the imagination. Fox's practice is largely informed by her nomadic existence via residencies in Darwin, Perth, Sydney and Tasmania and further afield in the USA, Greece, Thailand, Singapore and The Netherlands. Through these experiences, she aims to investigate fragility and imbalance in an increasingly unstable world.
Fox is represented in major public collections in Australia including the National Gallery of Victoria, the National Gallery of Australia and a host of regional art galleries.
June 4, 2021
In this time like no other, Gallerysmith has brought together a curated selection of artists' experiences of 2020 with this online exhibition 2020 (REAR) VISION. This exhibition draws artists from both within and beyond Gallerysmith and aims to provide a snapshot, as a social history record of a most unusual and challenging time. It contains work which is reflective, responsive, reactive and importantly, honest.
CV:
Belinda Fox
born 1975, Victoria, lives Melbourne
Education
1999     University of Melbourne (Graduate Diploma)
1993     Victoria College of the Arts (Bachelor of Fine Arts – printmaking)
Selected Solo Exhibitions
2020
Fragment(ed), Gallerysmith, Melbourne
Fault/Lines, San Francisco, USA
2019
You need the light to cast a shadow, Arthouse Gallery, Australia
2018
Introduce Yourself, Maybaum Gallery, San Francisco, USA
Pedestal, Gallerysmith, Melbourne
2017
Tilt, Manly Museum and Art Gallery, Sydney
Tapestry, Arthouse Gallery, Sydney
2016
Balancing the world, Chan Hampe Galleries, Singapore
2015
Balancing the world, Sydney Contemporary Art fair, Sydney
2014
Excavate, Korean International Art Fair (KIAF)
Excavate, Arthouse Gallery, Sydney
2013
Hua Ping, The Cat Street Gallery, Hong Kong
Everything is Connected, Chan Hampe Galleries, Singapore
Back to the Start, Scott Livesey Galleries, Melbourne
2012
The View from Here, Arthouse Gallery, Sydney
2011
Deeper the Blue, Niagara Galleries, Melbourne
Slip, Arthouse Gallery, Sydney
2010
Day to Day, Beaver Galleries, Canberra
2009
Finding my way, Turner Galleries, Perth
2008
Everything was Beautiful and Nothing Hurt, Melbourne Art Fair
2007
Backwards-Forwards, Fremantle Arts Centre, Fremantle
Camouflage, Arthouse Gallery, Sydney
Selected Group Exhibitions
2020
Fruhlings – An Australian Spring, Michael Reid Gallery, Berlin, Germany
2019
The Paul Guest Collection, Bendigo Art Gallery, VIC Australia
Seattle Art Fair, U.S.A
Sydney Contemporary art fair (Gallerysmith/Arthouse), Carriageworks, Sydney
2018
Miami Art Fair, Miami U.S.A
Op de vriendschap!, Gemeentemuseum, Den Haag, Netherlands
Size Matters – a question of scale, Chan Hori Gallery, Singapore
Sydney Contemporary Art Fair, NSW, Australia
 Seattle Art Fair, Seattle, U.S.A
Surprise: new acquisitions, The Janet Turner Print Museum, Chico, U.S.A
Australian Ambassadors Residence, Den Haag, Netherlands
Swan Hill Prints and Drawing Award, Swan Hill Regional Art Gallery, VIC
All We Can't See- group exhibition, The Yellow House, NSW
2017
Australasian painters, Orange Regional Gallery, NSW, Australia
2×5, Grafische Werkplaats, Den Haag, Netherlands
Hyper-botanical, Gallerysmith, Melbourne, Australia
2016
Paul Guest Collection, Bendigo Art Gallery, VIC
Art Stages, Singapore Art Fair, Singapore
2015
Common Ground, Chan Hampe Galleries, Singapore
The Piano Has Been Drinking (not me), Maitland Regional Gallery, NSW
2013
Grounded, Australian High Commission, Singapore
2012
Inspiring Artists, Pat Corrigan Artists Grants, Maitland Regional Gallery, NSW
Give and Take – collaboration with Neville French, Beaver Galleries, ACT
2011
Recent Acquisitions, National Gallery Australia, ACT
Personal Space, contemporary Chinese and Australian Prints, NSW/China
WATTLE Australian contemporary art, Cat Street Gallery, HK
2010
Can't See the Woods for the Trees, Sculpture, Niagara Galleries, VIC
2009
Niagara Presents, Niagara Galleries, VIC
Stories of our Making, Australian printmaking, Bristol, UK
2009
Women, Art and Politics, Swan Hill Regional Gallery, VIC
2007
Busan Print Festival, Korea (Australian Representative)
This is not a Print Show, Plimsoll Gallery, TAS (touring NSW, VIC)
Marks and Motifs, RMIT Storey Hall, VIC (touring nationally)
Awards
2010
Paul Guest Drawing prize (winner)
2008
Ex Libris Book Award, Artspace Mackay (acquired)
2007
Prometheus Visual Art Award (acquired)
Burnie Print Prize, TAS (winner)
2006
Conrad Jupiter Art Prize, Gold Coast QLD (acquired)
ABN AMRO emerging artist award (finalist 06)
Swan Hill Art Award, Swan Hill, Victoria (acquired 2006)
2003
Fremantle Art Prize, WA (Highly Commended in 2003)
2004
Silk Cut Award, Melbourne (winner 04)
Publications
Lianhe Zaoao, "Belinda Fox", Chinese Daily Newspaper, 25/1/16
Cheah Ui-Hoon, "Delicate balance of painting and sculpture", The Business Times Singapore, pg28, 4/12/15 Kempson, Bryan, Barkley, Naylor, Guest, "Back to the Start", monograph, published by Goff Books 2015
Lucy Stranger, "PROFILE", Artist Profile Magazine, Issue28, pg53-55, 2014
Brett Ballard "Belinda Fox Slip", review, Ceramics Art and Perception, Vol22/12 pg112-114
Altair Roelants, "The Narrative of Place", The Journal of Australian Ceramics, Vol50/3, pg20-25 2011
Glenn Barkley, 'Deeper the Blue", catalogue essay, September 2011
Dan Rule, "Deeper the Blue", The Age, pg5 Life & Style, 17/9/11
Kate Bryan, WATTLE Australian Contemporary Art, catalogue, pg38, 2011
Glenn Barkley/Belinda Fox, 'Process', Artist Profile Magazine, Issue 14, Pg112-113, 2011
Sasha Grishin, "Art as mirror of the soul", The Canberra Times, pg9, 21/9/10
Ric Spencer, "Journeys of discovery", The West Australian, pg7, 14/12/07
Tom Middlemost, "Behind the Camouflage", Imprint, Vol 42 n#4, 2007
Sasha Grishin, "Strong sense of identity" The Canberra Times, pg8, 4/4/07
Carol Archer, "Contemplative Offerings" Macau Closer, pg70-72, June 2007
Katherine McDonald "Contemporary Print Collecting" Art and Australia, Vol 40 n#2, 2002
Collections
National Gallery Victoria, National Gallery of Australia, Print Council Of Australia, Banyule City Council, VIC, Bendigo Art Gallery VIC, Burnie Art Gallery TAS, Wollongong University NSW, Fremantle Arts Centre WA, Artspace Mackay QLD, Swan Hill Regional Gallery VIC, Gladstone Regional Art Gallery QLD, Toowoomba Regional Art Gallery QLD, Warrnambool Art Gallery VIC, Mildura Arts Centre VIC, Queen Victoria Museum TAS, Parliament House Melbourne VIC, Gold Coast Art Gallery QLD, Charles Sturt University NSW, QUT Art Museum QLD, BHP Billiton Melbourne, ArtBank, NSW, AMP Tokyo, Tweed River Regional Gallery, NSW, Hamilton Regional Gallery, VIC
June 24, 2020
Tune in to the engaging podcast Talking with Painters by Maria Stoljar to hear Belinda Fox talk about her career…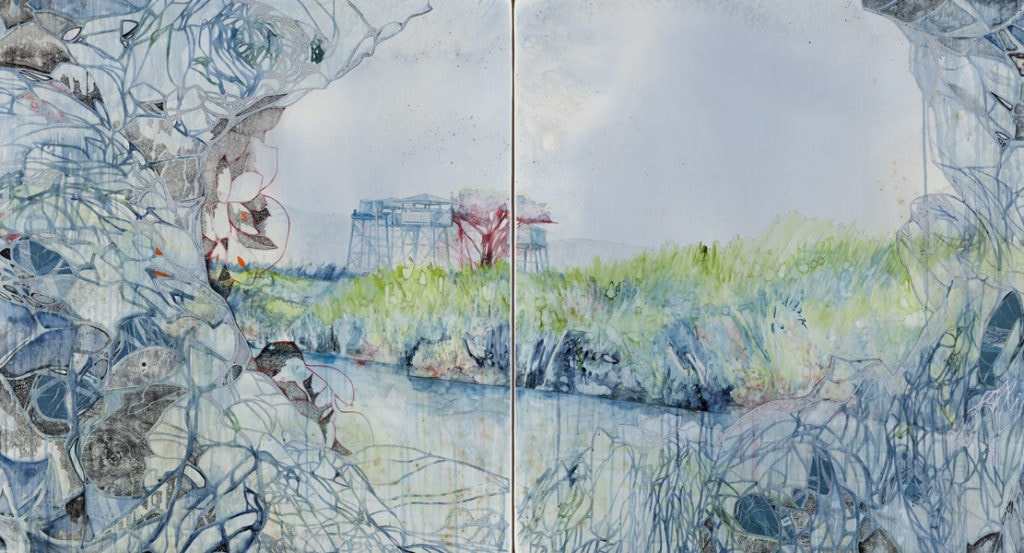 November 27, 2018
Splash – Contemporary Watercolour Award has been established to showcase Australian Artists who work with the watercolour medium. The $30,000…