NAIDOC WEEK WITH CLINTON NAINA
Gallerysmith is delighted to celebrate NAIDOC week. We acknowledge the important role first nation artists have in highlighting stories about our country, and are thrilled to share some insights into Gallerysmith artist, Clinton Naina's fascinating studio practice and achievements as we highlight and celebrate his significant contribution to the Arts.
Clinton Naina (Meriam Mir/Ku Ku) was born in 1971 in Melbourne.


Naina (pictured here) is the second youngest of seven siblings. His mother, Eleanor Harding, was a political activist and community service worker from the Torres Strait and his father's lineage is from Denmark and Ireland. From an early age, Naina's political awareness was grounded and shaped by his mother who believed in having strong political beliefs and values. "Because of her, I can." Clinton said in an interview with Gallerysmith.
Naina came to prominence in the late '90s with a poignant series titled White King, Blak Queen, which used a combination of bleach and bitumen to explore the tainted path of colonisation. His unique combination of materials and potent imagery exposed the impact of British settlement and imposed religious order on his people from the Torres Strait Islands.
When asked about his use of materials, Clinton told Gallerysmith, "I choose my materials based on what my story is about. Generally, everything I use in my artwork is related to what I am expressing and from where and from what my story derives from. This also directs my artistic process and thought process, like creating my bleach works. A lot of mediation, thinking, planning, collecting materials, practicing experimental techniques and research."
Naina's works have been included in a number of important survey exhibitions of Australian contemporary indigenous art, and are represented in numerous public collections including the National Gallery of Australia, Canberra; Art Gallery of South Australia, Adelaide and National Gallery of Victoria, Melbourne, to name a few.
Gallerysmith Director, Marita Smith, was first exposed to Naina's practice in 2001 when she visited his solo show Whitens, Removes Stains, Kills Germs at Sherman Galleries in Sydney. Marita followed his practice from there and met him when she curated the exhibition Dancelines: Contemporary Indigenous Art Inspired by Bangarra Dance Theatre at Arts Centre Melbourne in 2006.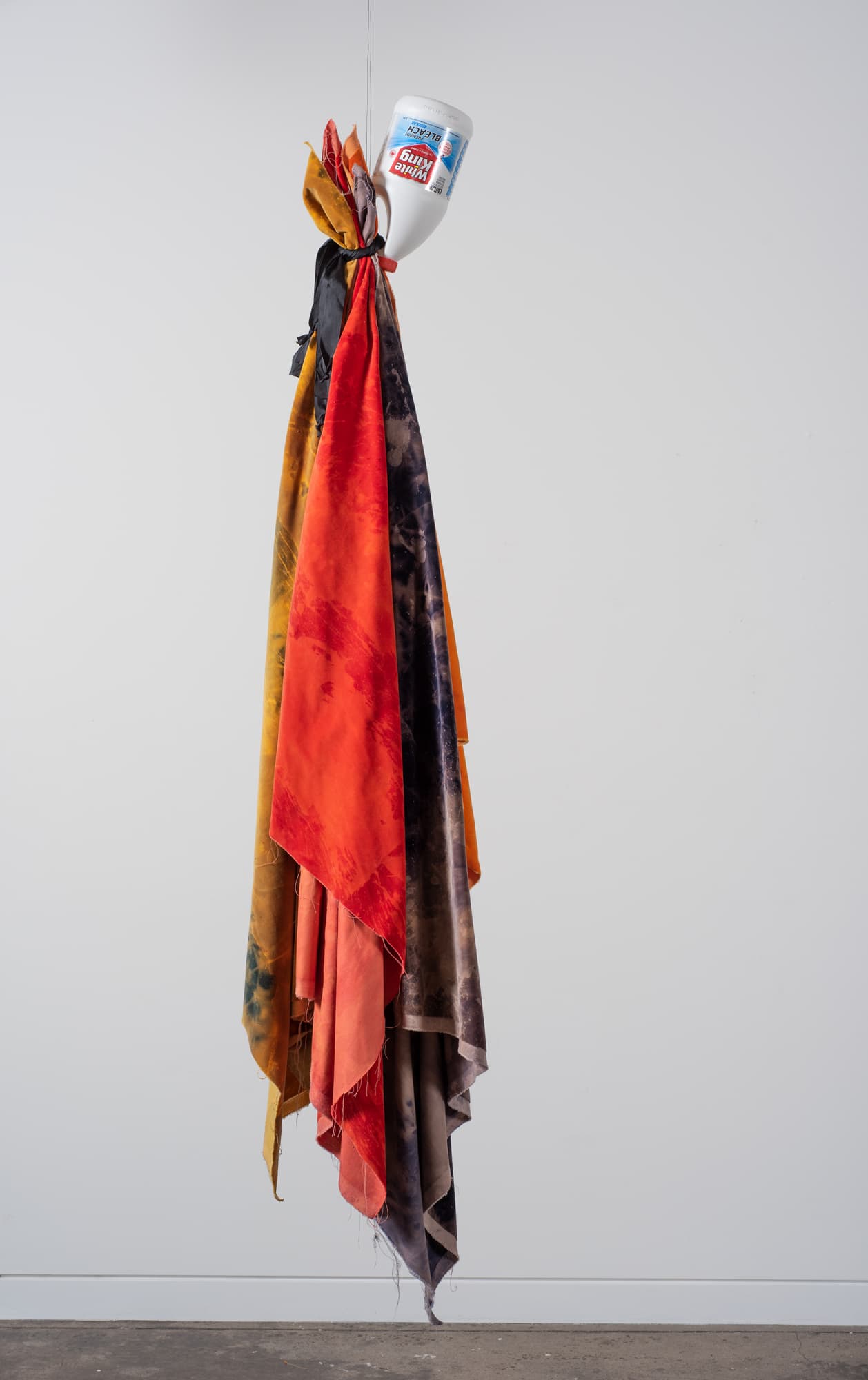 Marita Says "In terms of practices which go to the very heart of Australia's dark colonial history, I believe Clinton is one of the most compelling artists in the country. His work is powerful, provocative and highly resolved. I wanted to represent him at Gallerysmith when the gallery opened in 2008, but the opportunity didn't present itself then. It was a matter of patience, and waiting for the stars to align, which they eventually did, ten years later" 
Marita was delighted to invite Naina to join the Gallerysmith stable in 2018.  Since then, he has continued to make significant contributions to the arts and has been curated into a number of important exhibitions and prizes around the country.
With NAIDOC week coming to an end this Sunday, it is important to acknowledge the 2021 theme, Heal Country!
This poignant theme challenges all Australians to "continue to seek greater protections for our lands, our waters, our sacred sites and our cultural heritage from exploitation, desecration, and destruction."1.
Naina has addressed this theme throughout his career and continues to engage with a broad spectrum of indigenous issues including consumerism, climate change and the ongoing impacts of colonisation.
Most recently, Clinton Naina was awarded the top prize in the 2020 Koorie Art Show for his work 'Landfill', a critique of today's consumer society and ongoing oppression of Aboriginal and Torres Strait Islander people. Naina describes this work in incendiary terms:
"An empty plastic rubbish bag and an empty plastic bottle placed together. Metaphorically representing a human head expelling coin and remnants of colourful plastic bits and pieces from the capitalist consumer world, ejected into the earth. Left behind, forgotten and unseen. Toxic contamination, poisoning, bleaching and polluting, robbing and looting. Creating and contributing to the unknown throwaway fabric of society."
The work (detail on left) was exhibited at the Koorie Heritage Trust in Federation Square last year and subsequently acquired by the National Gallery of Victoria.
This year, Clinton Naina's work from CIAF2020 was curated into an exhibition at the NGV 'Big Weather', a timely exhibition that acknowledges the sophisticated appreciation of weather systems that exists within Aboriginal and Torres Strait Islander cultural knowledge. In this exhibition, Clinton's four panel bleach on velvet work 'Stolen Climate' links the effects of climate change to the ongoing impacts of colonisation.
Stolen Climate, which won the prestigious Queensland Premier's Award at the 2020 Cairns Indigenous Art Fair, echoes this years NAIDOC Week theme and was acquired by the NGV this year.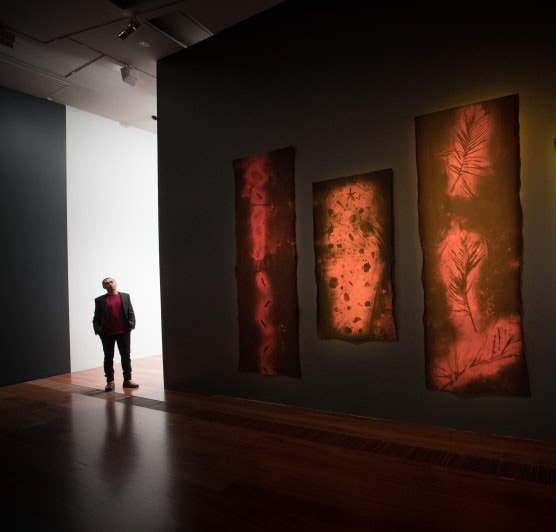 Clinton is currently  working towards an upcoming solo exhibition at Gallerysmith, Stolen Unknown.  This  exhibition  will comprise a new series of bleach on velvet artworks.
When asking Clinton what collectors can expect in his upcoming 2021 exhibition, Clinton responded "You will see and experience a different way of thinking about what is 'stolen' and what is 'unknown' and how and why this is so."
It is with great anticipation that we bring Clinton Naina's work and stories to you through his multi-disciplinary practice.
Click HERE to be placed on the advance list for Clinton's upcoming solo exhibition, Stolen Unknown.
Gallerysmith acknowledges that the gallery stands on Wurundjeri​ land, and their people as the traditional owners of the land. We pay our respects to their elders, past and present.
Clinton Naina is a painter, dancer, performer and storyteller who obtained a Bachelor of Fine Art (Painting) from Melbourne's VCA in 1994, and a Master of Fine Art (Research) from Sydney's CoFA in 2003.