My Own Art History | Gosia Wlodarczak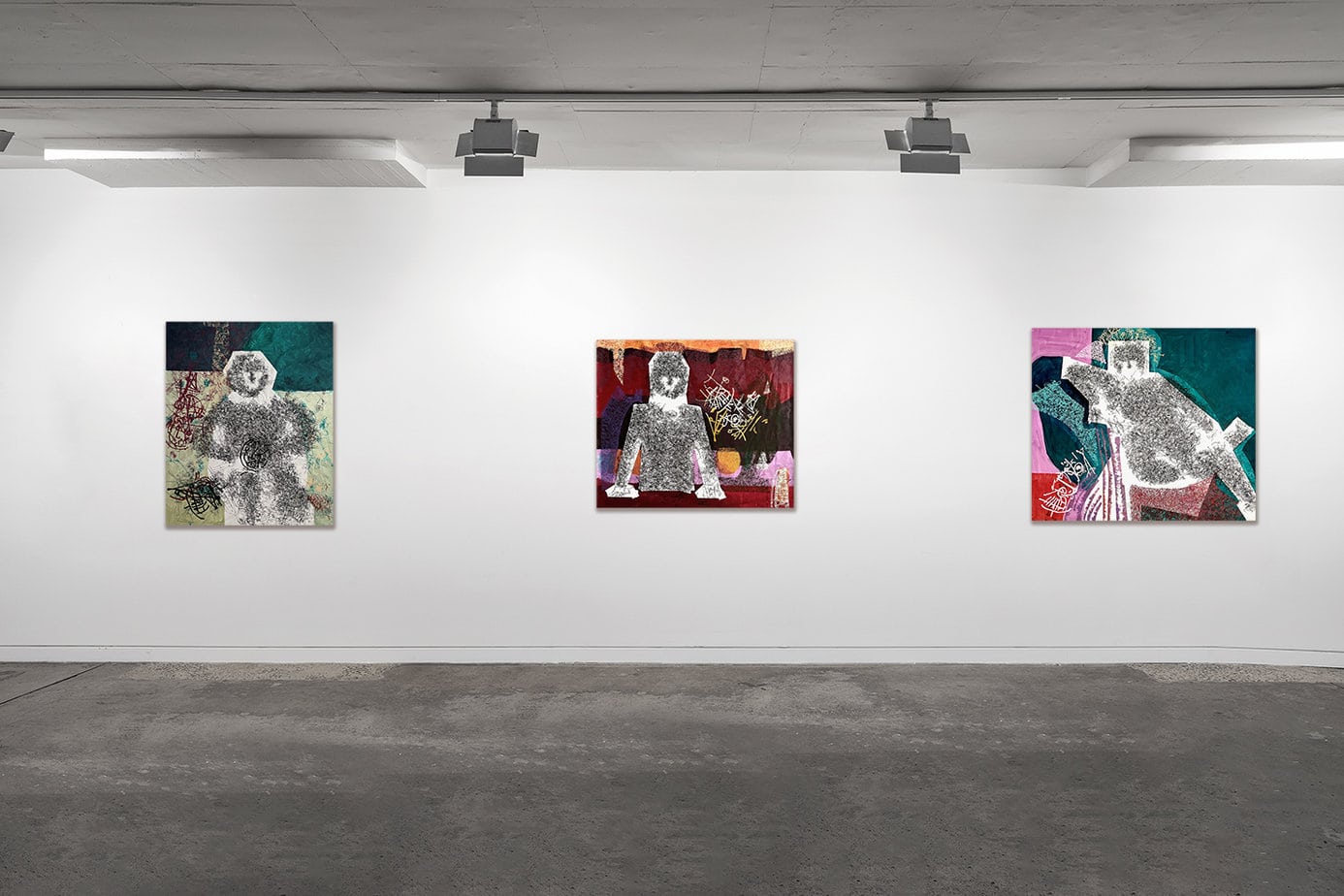 Gosia Wlodarczak is a Melbourne-based performance artist with an international reputation that spans more than three decades. Her time-based work has been performed in the USA, Singapore, Belgium, England, Germany, Russia, her birth country of Poland and extensively throughout Australia since immigrating here in 1994.
Wlodarczak's newest body of work, My Own Art History, presents a rich tapestry of ideas, which are layered conceptually and visually. The exhibition includes eight dustcover performance drawings along with seven collaged photographic prints.
Each major performance piece is compositionally 'after' an existing artwork that Wlodarczak has viewed and responded to. From a Byzantine Mosaic to John Brack's The Bar, her inspiration is varied, but many works originate from major public collections around the world. The structural likeness is loosely interpreted in acrylic on linen, with the figurative subject then mapped onto the surface through drawing performance. The prepared canvas is draped over a participant, whose contours provide a 3-dimensional drawing surface to complete the works. These artworks are a visual and physical time capsule, spanning continents and decades, transcending language, and linear time.
Wlodarczak's works are humorous, vivacious, and ambitious, a reflection of the artists personality. Her life-sized Self Portrait after Natalia LL, a celebrated Polish feminist conceptual artist, is full of bravado. The artist performed continuous drawing over her own body, at times led only through haptic feedback as she covered her face to create the drawing surface.
ARTIST STATEMENT
When I was a child in 1960's Poland I spent most of my time with my great Grandmother Wladyslawa (1898-1974) and Grandmother Wanda (1922-2017).
My Grandmother Wanda was the apotheosis of feminine beauty, grace and style. She was also an educated modern woman. When she was 19 her world crashed because of WWII but she never gave up, she pushed through and in the new world after the war she raised her two children (one was my mother). During all the years of the barbarous new order she never lost her grace, beauty and sensual sophistication. She carried with pride her quiet, deeply developed emotional intelligence, coupled with a scientist's rational relationship with the world and the reality surrounding her.
Wanda obtained a classical education in the high school for girls where the main emphasis was on languages (including Latin), ancient literature and history, but also science. She fell in lifelong love with Greek and Roman Mythology and this love she passed onto me.
The first serious book I received was an academically written anthology of Greek myths. During my entire childhood and youth I read the stories over and over again, often discussing them with my Grandmother. Some of the mature themes were not quite clear to me from the start but I was always given an earnest explanation without prudery and hypocrisy.
In my adult life I often look at, reference, and admire the ancient geniuses who presented humanity with timeless transcendence. The emotional response in humans has remained the same throughout history, now with the support of human brain research. Therefore those who weave ancient myth present a contemporary depiction and exploration of human emotions.
In the series of works for "My own Art History" exhibition I looked, through the eyes and mind of a contemporary woman, at selected paintings from art history and try to find the strongest emotion which formed within me. I used that emotion to create the essence of the selected work.
I dedicate this exhibition to my Great Grandmother, Grandmother and my Mother but also to all women and men who are not scared to recognise and nurture their emotions because emotions are the essence of our human life; they allow us to fantasise, desire and create – they make life possible.
Gosia Wlodarczak