Juncture | Rachel Coad
February 13, 2014

-

March 15, 2014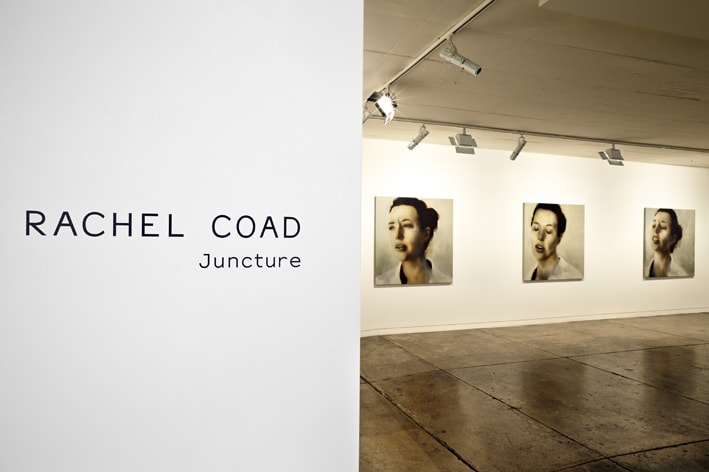 Juncture, a particular point in time, is also the term used to describe the transition from one second to the next. The paintings in Rachel Coad's current body of work examine this theme by merging the expressions observed between two thoughts. By identifying and combining many facets of one moment, Coad's muted and intense works delve deeper into subconscious thought and uncover an unhindered engagement with the inner-self.
Figuration offers a vehicle for Rachel Coad to delve into existentialism, and the engagement of viewer to subject is key to the success of her work. Colour, a tool used by most artists to communicate emotion, is reduced to tonal shifts in her paintings to eliminate distraction and retain the focus squarely on her subject. This approach, though intuitive for the artist, is risky, as it creates a conducive environment for closer scrutiny of the work. Coad confronts this challenge by producing subjective works with emotionally driven narratives.
Rachel Coad has shown in both Australia and the UK. She has been shortlisted for numerous awards in the past decade including the Metro 5 Award on two occasions (2006, 2007) and the Albany Art Prize. At the end of 2013, Rachel was shortlisted for the BankWest Painting Prize and was voted as the winner of the People's Choice.
Juncture is Rachel's 11th solo exhibition and her second with Gallerysmith. Her work is held by the Janet Holmes a Court Collection among others.