EVA FERNANDEZ ARTIST PROFILE + Q&A
Eva Fernandez' practice is essentially concerned with the space which she inhabits in the context of the cultural legacy of colonialism and imperialism.
Born in Toronto, Canada and living in Perth, Western Australia, Ferndandez investigates her own pluralistic identity in relation to contemporary issues of global displacement. As the child of post Spanish Civil War migrants, Fernandez and her family, like many others, were displaced and left with a fragmented history. By carefully delving into the spaces of her past, she unearths narratives in order to piece together a shattered, emotional and forgotten past. Drawing on these fragments, her works embody the traces, voices and memories from the past that are blended and embedded with reference to Spanish art and history.
Eva completed a Master of Arts at Edith Cowan University in 2002 and is currently undertaking her PhD. She has had six solo exhibitions and exhibited in several group shows nationally including, Girls on Film and Mix Tape at the Art Gallery of Western Australia, Transient States at Lawrence Wilson Art Gallery and more recently at the National Gallery of Victoria.
GS: Let's start by learning a little bit about your past. Your parents were part of the Spanish diaspora. Tell us what brought them here to Australia and what your heritage means for you as an artist?
EF: Both my mother and father were born in Madrid and grew up during the Spanish Civil War and post-war era. Experiencing life under the strict Franco dictatorship meant growing up under a strong Catholic ethos and Nationalistic patriotism. As children, my parents were witness to the people of their nation rising against each other for ideological differences. This divided neighbours, friends and even family members creating a society of suspicion and fear where peace and harmony once existed. It was a time when voices were silenced, and daily survival became a struggle. For my parents, this meant experiencing childhoods of poverty, trauma and loss which brought much despair and suffering to their families, caught on both sides of the conflict. During the post-war era, as young adults, my parents left Spain as a consequence of the economic crisis of the war as well as ideological differences to the authoritarian regime. After troubled times with authorities and trying to find work in other European countries, my parents were finally granted visas to Canada where I was born. I lived in Canada until I was a young child when my family decided to immigrate to Australia for a change of lifestyle and a more temperate climate.
As a child I was surrounded by a variety of culturally diverse influences and languages; I am culturally Spanish, Canadian born and geographically and legally Australian. As a woman from a long Spanish lineage, I am the first generation to have been displaced from my culture of origin. As a consequence of the dislocation from my original culture and immigration from my country of birth as a young child, I feel an incessant desire to research and inform myself of my ancestral narrative as I continually negotiate my pluralistic identity and generational loss.
Much of my art practice examines my cultural identity as an outsider living within in a foreign space without a sense of belonging to any particular place or culture.
GS: You have had a photographic practice now for more than two decades, and your aesthetic is bold and dramatic, and unique. What are you trying to achieve with your work?

EF: I generally begin my creative process with a rigorous research period prior to the making of work. Much of this is research draws on history, culture and the art of the period or subject I am researching. Often this informs and manifests the aesthetic of the works which I create.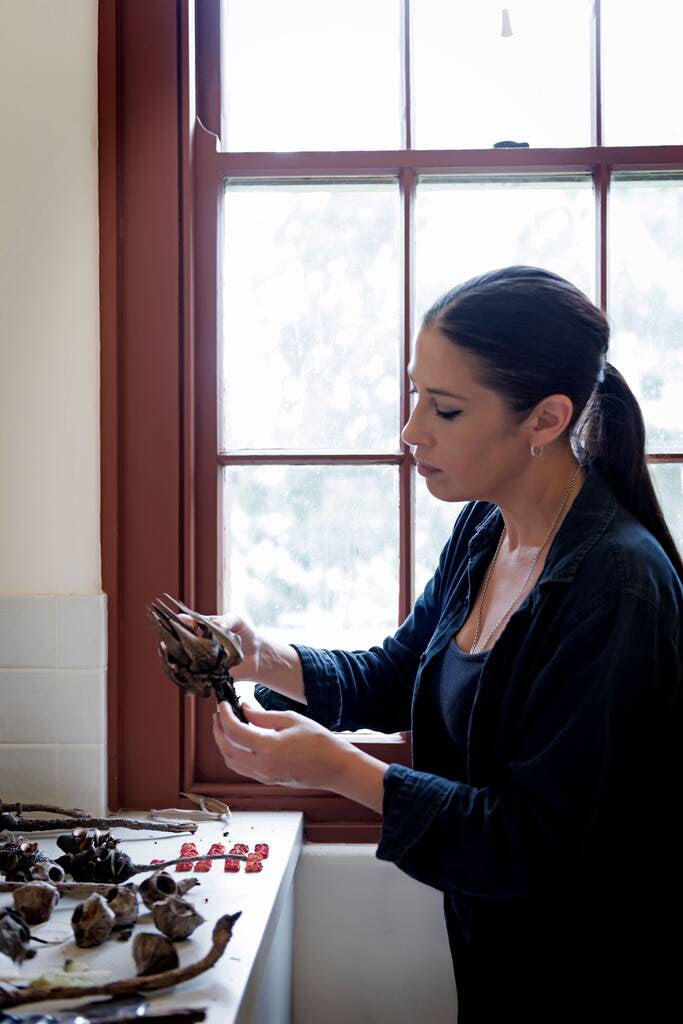 In the case of my work that draws on the history of my cultural identity, Spanish history and art are blended and embedded in these contemporary works which echo and weave narratives and images across centuries from bygone empires to civil war, to notions resonating in present times. In these works, the aesthetic is drawn from iconic Spanish art and literature, from the Baroque drama of 16th century traditions of bodegón still life paintings, to the critical social commentary of Goya's etchings of the 19th century to the 20th century poetry of Federico Garcia Lorca.
Through all of my work, I attempt to exhume the past of incomprehensible histories in order to illuminate and critique the present and give voice to that which has been buried.
GS: Your 2011 series, (Terra) Australis Incognita, which depicts native flora bursting from deconstructed Colonial furniture, was incredibly well received and this is when Marita first came across your work. What was it about this series which captured the collective imagination?
EF: This series of large photographic images presents symbolic laden, quotidian European objects in various states of deconstruction, in order to subtly critique the social fabric of their origin. The objects reference European cultural status and migration in their various states of deconstruction whilst elements of native Australian flora bloom violently from the seats of upholstered chairs and suitcases. As some of the objects are dismantled into many components and then attempt to be reconstructed to their original states; the flaws become apparent and obvious, serving as a critique of the process of decolonization/reconciliation. These investigations create a tension between order and disorder and provide a means to subtly scrutinize issues surrounding colonialism in Australian culture.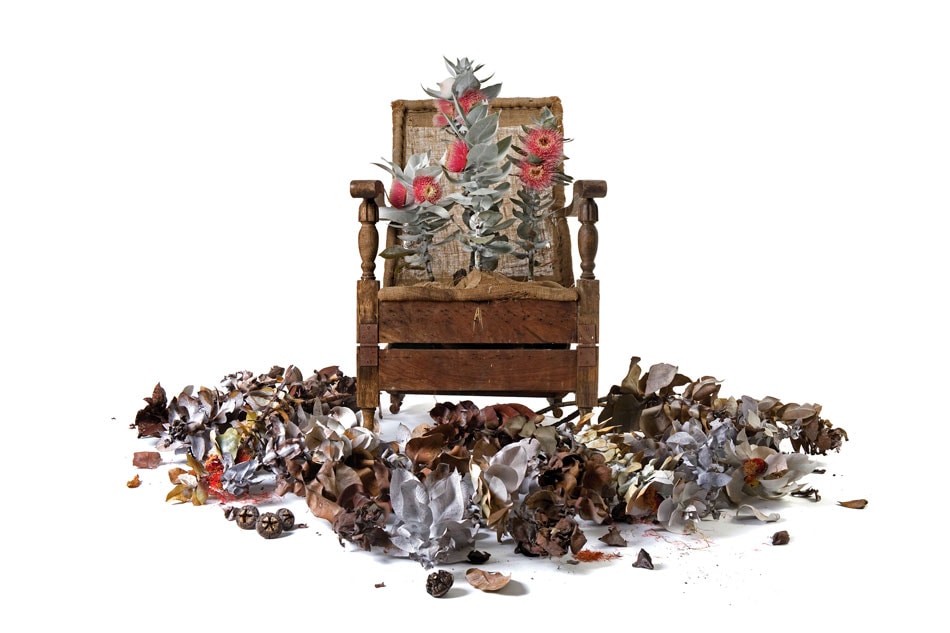 Whilst some of Australian society acknowledges the devastation of its colonial past and attempts to reconcile past atrocities, it becomes increasingly apparent that it is impossible to achieve complete reparation. Acting as a critique of the violent destruction of societies by external influences, paralleling the practices of colonisation, these photographic images create a forensic like site in a clean and clinical surround at the same time eerily resembling institutions or sites of violence.
I believe that these strange manifestations capture the collective imagination as they at times represent dark and menacing forms full of contradiction, of half-finished processes, of confusions, creating a tension between order and disorder, whilst at other times metamorphosing into highly aesthetic objects bursting with beautiful native blooms.
This work draws upon Post-Colonial theory which assumes that the logic of colonialism is today still an active force, albiet through different or new relationships concerning power and the control/production of knowledge.  As the objects in this series of photographs become exposed and deconstructed, there is a questioning of the idea that by exposing and deconstructing the racist, imperial nature of assumptions, they lose their power of persuasion or coercion.
GS: Your most recent series is poetically titled A Rare Bird in the Lands. What is the origin of this phrase and how does it relate to your work?
EF: The proverb 'A rare bird in the lands' dates back to the Roman satirist, Juvenal, who wrote in AD 82, rara avis in terris nigroque simillima cygno, translating to "a rare bird in the lands, and very like a black swan". This became a popular metaphor for something that couldnot exist or was not possible. In contemporary times, this developed as the 'the black swan theory', a metaphor that describes unexpected events of large magnitude and consequence and their dominant role in history which are often inappropriately rationalised after the fact with the benefit of hindsight. These notions can also refer to early ideas of representation of Australia's identity, inevitably determining notions of post-colonial and present-day identity.
The first recorded sighting of a black swan in Western Australia, by a non-Indigenous person was by the Dutch explorer, Willem de Vlamingh in 1697, when he sailed into the Derbal Yaragan, which he named the Swan River after these majestic creatures. This was a unique and momentous occasion as prior to this, the black swan existed only in the European imagination as only white swans existed on the European continent.
As the black swan is the official state emblem of Western Australia and depicted on the flag as well as the coat of arms, this emblem in my artworks becomes a satirical symbol from which to comment on Western Australia's brutal history and the processes by which the state was founded. Throughout European history, in literature, music and theatre, the black swan has been attributed with dark symbolism, having a sinister and seductive association with evil. Drawing upon colonial history to present times, these works reposition emblematic flora and fauna representative of Western Australian identity as trenchant symbols, to explore dark undertones of the state's brutal history; first contact of Europeans with the Whadjuk people of the Nyoongar nation and the impact of harsh colonial rule and dispossession of traditional lands. Once static and innocent kangaroos, swans and flora become threatening, intimidating and hostile.
GS: You work across digital-based media, installation and a variety of other media, how do these different ways of working interact with one another?
EF: The concept is always the most important part of the process, and this dictates the best medium to materialise my vision. Working across various media creates dialogues which enhances and enriches the overall artwork as each material brings its own voice, meaning and context, different to another. Some concepts can be addressed through a photograph, while others may require installation, or a slow-moving video, a sound piece or a piece of sewn fabric.  Bringing the different visual materials together creates a conversation which challenges the viewer through their various senses, creating and encouraging an immersive and dynamic experience.
GS: What is next for Eva Fernandez?
EF: I am currently a full-time student at Edith Cowan University in Perth WA undertaking a Doctorate of Philosophy (PhD).  My research and creative works explore the construction of womanhood in Spain during the post Spanish Civil War period. The Spanish Civil War (1936-1939) and the Franco dictatorship's ascension to power led to a pervasive socio-cultural shift in twentieth century Spain. The fratricidal conflict and post-war era were characterised by executions, incarceration, torture, trauma and silence with illness and hunger waged against a mainly civilian population. This led to a society which was violently repressed, silenced and controlled by a fascist dictatorship. The nation was cast into abject poverty and sowed the seeds for internecine conflict and autarky to four decades to follow.
Spanish women of this generation, including those in my family, were severely impacted by initiatives and practices put in place by the women's branch of the Falange political movement, the Sección Femenina, founded in 1934. This organisation was used to impart Francoist patriotic, religious and social morals to Spanish women. The organisation functioned as the conduit, disseminating the moral and political values of the regime and the church to the feminine population, with its fundamental doctrine, a return to patriarchal society and restoration of traditional gender roles.
I employ feminist cultural studies research that engages with gendered cultural history, narratives, and oral family histories to explore how the Sección Femenina shaped gender and cultural identity. This research focuses on the use of the female body as a cultural product through the practices and initiatives created by the Sección Femenina under the control of the Franco regime. These practices removed women's ability to speak freely, becoming silent from the immediate post-civil war years up until Spain's transition to democracy (1939-1975).
I am making work that builds upon historical data and weaves and blends fragmented family narratives from my family with my own reflections. This significant area of research is informed by a collection of new and existing materials including; oral history, documents, objects and photographs from my family archive from the post-Spanish Civil War period.
My research and creative work aims to negotiate this difficult terrain with particular emphasis on the construction of womanhood. My new works will embody the traces, voices, memories and images from the past that are blended and embedded in my own history, encounters and interpretations.