CHRISTOPHER PEASE ROOFTOP ARTWORK UNVEILED AT THE ART GALLERY OF WESTERN AUSTRALIA
Gallerysmith is delighted to share the news that Christopher Pease's long awaited thirty-four metre long rooftop installation was unveiled at the Art Gallery of Western Australia last night to an audience of more than 1,000 people.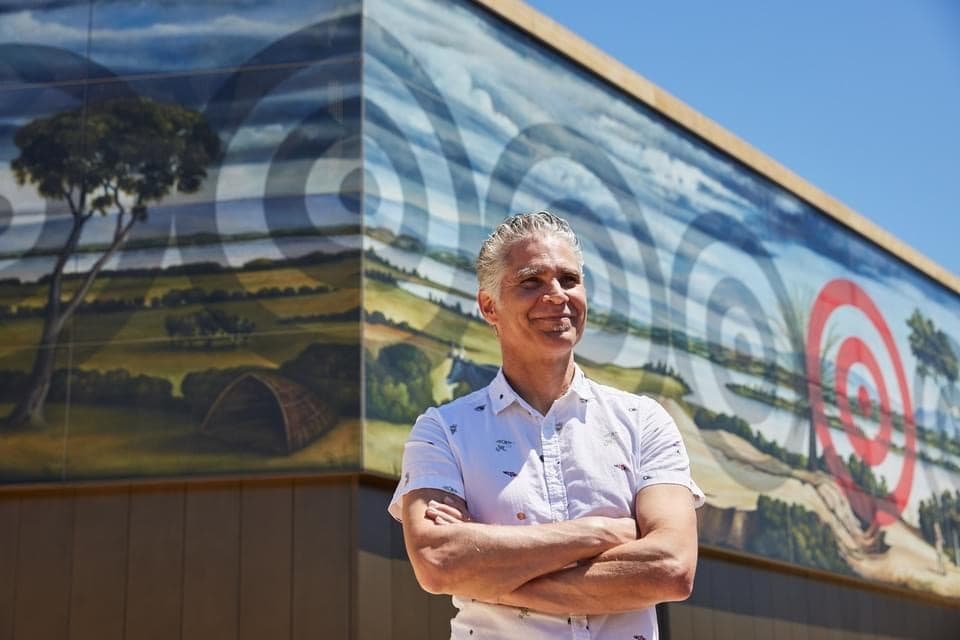 Pease's epic work, Targets, celebrates the history of Perth's CBD as a place of belonging for Nyoongar and all who live and visit the Perth region. Pease says "I'd like people to see this as an icon for the gallery. Something that is inclusive; that is a shared experience."
Developed over a two year period, Targets wraps around the envelope of AGWA rooftop structure and can be seen not only from the terrace, but from locations around the city and the hills surrounding Perth. In the evening, Targets transforms to an abstracted light installation which highlights a pulsing target, Nyoongar body paint markings and a gently flowing Derbal Yerrigan (Swan River). Art Gallery Director Colin Walker has described the work as "one of the most extraordinary pieces of public art in Australia".
This commission is a wonderful acknowledgement of award-winning artist Christopher Pease, whose paintings have been curated into several important exhibitions which have toured internationally and are held in state collections such as the National Gallery of Australia, the National Gallery of Victoria, the National Museum along with international private collections and of course the Art Gallery of Western Australia.
Gallerysmith is hosting a solo exhibition of new paintings by Christopher Pease in February 2022. Interested collectors and curators should register here.